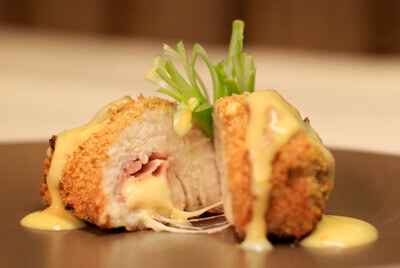 Chicken Cordon Bleu
Ingredients:
Chicken Breast Cutlet 6 Pieces
Bread Crumbs (unseasoned) 1 ½ Cups
Salt 1 Tbsp
Pepper 1 Tsp
Garlic Powder 1 Tsp
6 eggs
½ # Fontina Cheese
12 Ounces of Sliced Ham
½ Stick Butter Melted
Method:
Combine bread crumbs and seasonings. Stir in melted butter and set aside.
Crack and scramble the eggs. Place in a deep bowl and set aside.
Slice the cheese and wrap each slice with a piece of ham. Place ham and cheese in chicken and wrap. Dip the chicken completely in the egg, then coat with seasoned bread crumbs. Transfer to a lined greased sheet pan. Bake at 350 degrees for about 25-30 minutes or until chicken is completely cooked through.