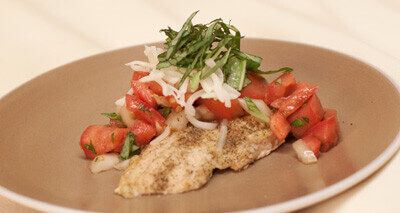 Chicken Bruscetta
Ingredients:
6 Boneless Chicken Breasts
½ Medium Onion Diced
6-7 Roma (plum) Tomatoes Diced
½ Cup Chopped Basil
6 Large Garlic Cloves Minced
¼ Tsp Salt
1/8 Tsp Black Pepper
1 Tbsp Olive Oil
2 Cups Shredded Mozzarella Cheese
Method:
In a large bowl, combine onion, tomato, basil, garlic, salt, pepper and oil. Stir to combine and hold at
room temperature. For best results, refrigerate tomato mixture overnight.
Season to taste the chicken breast and bake at 350 degrees until fully cooked.
Spoon bruscetta mixture on top of the chicken and sprinkle cheese. Place back in oven until cheese is
melted. Serve immediately and enjoy!