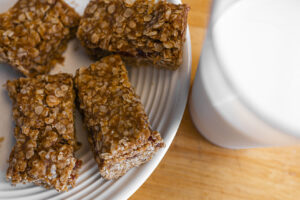 PBJ Bars
Ingredients:
3 cups Rolled Oats
1 ½ cups Rice Krispie Cereal
½ cup Honey
¼ cup Butter
1 cup Peanut Butter – creamy or chunky…your preference
1 teaspoon salt
2 teaspoons vanilla
3-4 Tablespoons jelly – your preference
Directions:
Line a 9"x13" baking pan with parchment paper making sure to have it go up the sides to make it easier to remove from pan.  It's also easier to clean up!
Combine Oats and Cereal in bowl, set aside.
In large saucepan, on medium heat, combine the honey, butter, peanut butter, salt and vanilla. Stir constantly until smooth. I suggest using a wooden spoon. It should only take a minute or two to do this step, it burns easily.
Pour the oat/cereal mixture into saucepan and stir until coated.
Press well into prepared baking pan. Hint: Place another piece of parchment on top and really push down to compress the mixture.
While still warm spread jelly over half of the mixture vertically, like on the 50 yard line on a football field. Another hint: Stir the jelly in a small bowl before you try to spread it on mixture. You'll get a more even layer of jelly.
Cut the bars where the jelly stops.
Let cool 10 or 15 minutes, then fold the plain side of the mixture over the jelly side.  If the mixture is not compressed enough it will be crumbly, so make sure you use your muscles!
Cool in refrigerator for 2 hours.
Cut. Eat. Enjoy!