Strawberry Crunch Cake
(From delish by Lauren Miyashiro)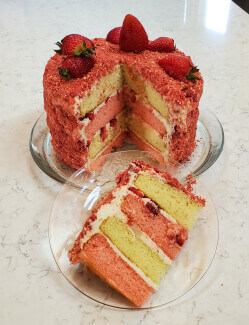 Ingredients:
For the Cake:
1 box vanilla cake mix, 1 box strawberry cake mix, plus ingredients listed on box.
For the Frosting:
1 ½ cup butter, softened
6 cups powdered sugar
2 teaspoons vanilla
6 Tablespoons heavy cream
For the Strawberry Crunch:
1 cup freeze-dried strawberries (found in produce dept with dried fruits)
½ box vanilla wafers, crushed
3 Tablespoons butter, melted
Fresh strawberries for garnish

Method:
Preheat oven to 350 degrees.
Prepare 4-8" round cake pans, with parchment paper and spray with cooking spray.
Prepare each cake mix separately, pour into prepared pans, bake, and cool, remove from pans. (All according to package.)
To make frosting, use mixer (hand or regular mixer) and beat butter and half the powdered sugar until smooth. Add the remaining powdered sugar, vanilla and 4 Tablespoons of cream and beat until fluffy. If the mixture is too stiff, and more cream.
To make strawberry crunch, place dried strawberries and vanilla wafers in a Ziploc bag and crush. Add melted butter to bag and toss until evenly combined.
To ice the cake, put a dab (1-2 Tablespoons) of frosting on the cake plate, this will keep the cake from sliding around on the plate. * Divide frosting in 6 parts. Put 1st layer of strawberry cake on plate and top with one part of the frosting. ** Next, put 1st layer of vanilla cake on top and ice. Repeat with the remaining strawberry and vanilla cakes. Frost sides, then cover the cake completely with strawberry crunch, pressing the mixture all over the sides and top.
Garnish the top of the cake with fresh strawberries.
*Hint: place strips of parchment paper or waxed paper along the outside of cake plate and under part of the cake so when you put the crunch on it will fall on the paper and you'll have a cleaner presentation.
Garnish the top of the cake with fresh strawberries if desired.
**Another Hint: you can add sliced strawberries on top of the frosting in between each layer of cake.
How about another Hint? You could change up the flavor by using different flavors of cake mix and freeze-dried fruit. Or try all vanilla cake and crunch up the kid's favorite sugary cereal and press cereal onto top and side of cake. Use your imagination and have fun!!!