Mixed Berry Muffins
From Natasha's Kitchen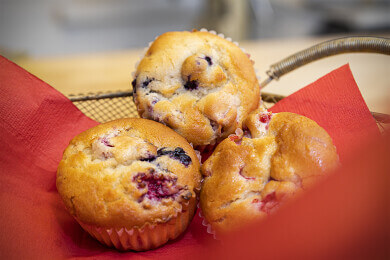 Ingredients
· 2 large eggs room temperature · 1 cup granulated sugar
· 1 cup Greek yogurt (or sour cream)
· 1/2 cup extra LIGHT olive oil (not extra virgin) · 1 tsp vanilla extract · 1/4 tsp sea salt · 2 cups all-purpose flour · 2 tsp baking powder
· 1/2 cup strawberries hulled and diced
· 1/2 cup raspberries
· 1/2 cup blueberries
Method:
1. Line a 12-count muffin tin with cupcake liners and preheat oven to 400˚F.
2. In a large mixing bowl, using an electric mixer, beat 2 eggs with 1 cup granulated sugar on high speed 5 minutes, or until thick and light in color.
3. Add 1 cup Greek yogurt, 1/2 cup oil, 1 tsp vanilla. Set mixer to low speed and mix just until combined.
4. In a small bowl, add 2 cups flour, 2 tsp baking powder and 1/4 tsp salt and whisk to combine. Using a handheld whisk, add flour mixture into the batter 1/3 at a time, stirring to incorporate with each addition. DO NOT OVERMIX or muffins will be dense.
5. Use a spatula to fold in 1 1/2 cups mixed berries, folding just until combined.
6. Divide batter into prepared muffin tin, filling to the top. Bake in the center of the oven at 400˚F for 20-22 minutes or until tops are golden and a toothpick inserted into the center comes out clean. Transfer muffins to a wire rack to cool. Serve warm or at room temperature.