Cake Mix Lemon Sandwich Cookies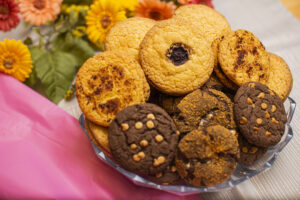 Heat oven to 350 degrees F.
1 (15.25-21 oz.) box lemon cake mix
2 eggs
1/3 cup vegetable oil (If using a cake mix larger than 15.25 oz you may want to increase oil to ½ cup.)
Do not add water!
In a bowl, mix the three ingredients together until combined. – You don't even have to dirty a mixer – mix it by hand!
Scoop dough into balls and place them 2 inches apart on a parchment lined cookie sheet.
Bake for 8 – 10 minutes. To ensure soft cookies don't over bake!!!
Remove from oven and place on cooling rack.
Remove from cookie sheet after 5 minutes until completely cool.
Once cooled, put 1 Tablespoon of lemon pie filling on the flat side of a cookie and top with another plain cookie. I loved the filling in the cookie but if you don't have any you can enjoy these as stand-alone cookies.
There are SO many options using this recipe! Just change the flavor of the cake mix and off you go! Chocolate, Strawberry, Funfetti, Red Velvet, Carrot, I'm a chocolate lover so I use a chocolate cake mix and put a variety of add-ins in the dough…i.e. white chocolate chips, peanut butter chips, butterscotch chips, chopped nuts, raisins, chopped up candy, chopped candy canes, mini marshmallows, graham crackers… The possibilities are endless!
To store, put cookies in an airtight container.
Hope you enjoy!