Bologna Cake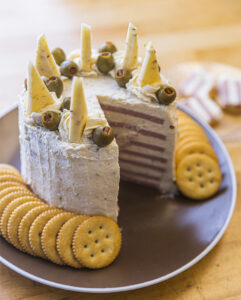 Ingredients:
1 pound thick sliced bologna – about ¼" thick
2-8 oz. packages cream cheese – softened
¼ cup finely cut onion
¼ cup finely cut celery
1 Tablespoon Worcester sauce
2 teaspoons dried mustard
6-8 ounces shredded Monterey Jack Cheese*
Directions:
Cream together cream cheese, onion, celery, Worcester sauce, mustard, and shredded cheese until spreadable. Set aside about ¾ cup of mixture to 'ice' the 'cake'.
To assemble place a small dollop of cream cheese mixture on serving plate.
Place one slice of bologna in middle of serving plate.
Spread cream cheese mixture on top.
Continue until you use up the ingredients or until this appetizer cake is the height you desire. Use the mixture you set aside to cover the bologna cake.
Garnish with olives, cheese cut in triangles and arrange crackers around the bottom of the cake.
*you can use any cheese you wish. I wanted just a little bit of zing so I used Monterey Jack.
For those who enjoy spicy hot…add some hot sauce or jalapenos!
Most of all…enjoy!