Fudgiest Dairy-Free Chocolate Cake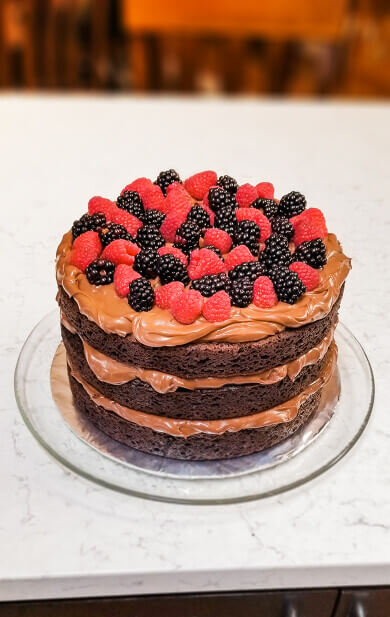 Ingredients
for 10 servings
FROSTING
· 30 oz full-fat coconut milk, 2 cans
· 3 cups dairy-free chocolate chunk
· ¼ cup coconut oil, melted
· 2 cups powdered sugar
CAKE
· 3 cups whole wheat flour
· 1 ½ cups dark cocoa powder
· 1 cup sugar
· 1 tablespoon baking soda
· 1 ½ teaspoons baking powder
· 1 pinch salt
· 3 cups almond milk
· 1 cup coconut oil, melted
· 1 ½ cups applesauce
· 1 ½ cups maple syrup
· 1 tablespoon apple cider vinegar
· 1 tablespoon vanilla extract
· berry, of choice, for garnish
Method:
1. In a microwave-safe measuring cup, or in a small pot on the stove, heat the coconut milk until hot, but not boiling (about 2 minutes in the microwave).
2. Place the dairy-free chocolate in a large bowl and pour the hot coconut milk over it, allowing the milk to melt the chocolate. Mix well to combine.
3. Once the chocolate is melted, add the coconut oil and powdered sugar. Beat with a hand mixer or whisk until smooth.
4. Cover and refrigerate overnight.
5. Preheat the oven to 350°F. Grease 3 separate 8-inch round cake pans and set aside.
6. In a large bowl, add the whole wheat flour, dark cocoa powder, sugar, baking soda, baking powder, and salt. Whisk to combine and set aside.
7. In a separate large bowl, add the almond milk, coconut oil, applesauce, maple syrup, apple cider vinegar, and vanilla extract. Whisk to combine.
8. In two batches, add the dry mixture to the wet mixture, folding with a spatula until combined. Some clumps are okay.
9. Divide the batter evenly between the 3 pre-greased cake pans and bake for 35–45 minutes, or until a toothpick comes out almost entirely clean. Cool completely.
10. Remove the frosting from the fridge and mix it up well.
11. Choose which cake will be your bottom layer and cover evenly with about 1 cup of frosting. Top with the second layer, frosting evenly again. Add the final layer and frost the top and the sides of the cake generously, topping with berries of choice for garnish.
I found this recipe on the Tasty website.