Chocolate Sea Salt Rugelach
(The Food Network Kitchen)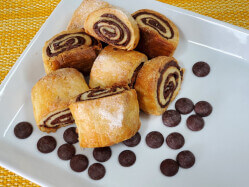 Ingredients:
2 1/2 cups (325 grams) all-purpose flour, plus more for dusting*
1/4 cup (50 grams) granulated sugar
1/2 teaspoon kosher salt
1 cup (226 grams) unsalted butter, cubed and cold
8 ounces (226 grams) cream cheese, straight from the fridge
2 large egg yolks
1 teaspoon vanilla extract
1/2 teaspoon almond extract, optional
1 1/2 cups (260 grams) chocolate chips or chopped chocolate.
1 large whole egg
Flaky salt, for sprinkling
Sprinkles, sanding sugar or turbinado sugar, for sprinkling
Method:
1. Combine the flour, granulated sugar and salt in a stand mixer fitted with the paddle attachment. Add the cubed butter, distributing it all over the top of the dry ingredients, then dollop in the cream cheese (1-inch dollops should do it, but it doesn't need to be perfect). Turn the mixer on low speed and mix until the mixture is mostly mealy and there are still some larger clumps of butter and cream cheese intact. With the mixer still running, add the egg yolks, vanilla and almond extract, if using, then continue mixing until the dough comes together. Divide the dough in half and shape into 2 discs. Wrap each tightly in plastic wrap and refrigerate for at least 1 hour or up to 2 days.
2. Melt the chocolate in a double boiler, stirring constantly, or in a microwaveable bowl in 30-second increments, stirring after each. Set aside to cool briefly while you roll out the dough.
3. Beat the remaining whole egg with a splash of water for an egg wash. Roll out a dough disc on a lightly floured surface, dusting with flour as needed to prevent it from sticking, until it is a wide rectangle, 18-by-9-inches. Use an offset spatula to spread half of the chocolate over the dough in a thin even layer, leaving a 1-inch border along the long edge that's farthest from you. (Try to work kind of quickly so the chocolate doesn't harden.) Brush the border with a thin layer of egg wash. Starting on the long end closest to you, roll the dough into a long, tight log, then place it seam-side down on a cutting board or baking sheet. Repeat with the remaining dough and chocolate. Refrigerate for at least 1 hour or up to 2 days (depending on fridge space, you might want to cut the log in half so you're dealing with four shorter logs instead of two really long ones; wrap in plastic if refrigerating for longer than 1 hour).
4. Preheat the oven to 375 degrees F and line two baking sheets with parchment paper.
5. Brush the logs with a thin layer of egg wash, then sprinkle with a few pinches of flaky salt and a ton of sprinkles or sanding sugar. Cut into 1 1/2-inch slices and transfer to the baking sheets, spacing them 1 inch apart. Bake until golden brown on top, about 24 minutes. (You might notice that the cookies seem to sweat and leak out some fat while in the oven; this is completely normal.) Let cool on the baking sheets for 5 minutes, then transfer to a wire rack to cool completely, or enjoy them warm! Fully cooled cookies can be stored in an airtight container at room temperature for several days.
To make these delicious cookies gluten-free, I substituted gluten-free flour for all-purpose flour. The crust is so flaky that I decided to use this recipe in other recipes that call for pie crust!