Flourless Chocolate Torte with Peanut Butter Mousse Topping
Adapted from two recipes – White Chocolate-Fudge Torte @ Pillsbury.com and  –  Chocolate-Peanut Butter Mousse Cake from an old Southern Living magazine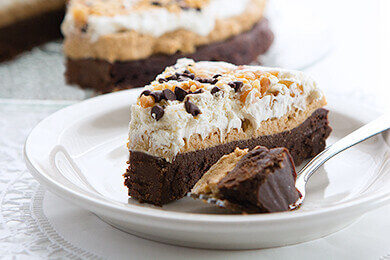 Ingredients:
Flourless Torte:
16 oz. semisweet chocolate
1 cup butter – ***(recipe calls for unsalted but I use salted)
6 eggs
Peanut Butter Mousse:
10 oz. peanut butter morsels
2  cups whipping cream – divided
2 teaspoons vanilla
Method:
Torte:
Heat oven to 400 degrees F.
Spray 9-inch springform pan with nonstick cooking spray.
In large saucepan, melt butter and chocolate over medium-low heat.  Stir constantly until smooth. *** HINT:  I melt butter completely first, then add chocolate.  Let stand for about 2 minutes, turn off heat and stir and stir until morsels are melted.
Cool for 30 minutes.  I often will transfer the chocolate/butter mixture into a large mixing bowl to help it cool off more quickly.  It's alright to stir it once in a while to speed up the cooling process. (If I'm really in a hurry I will place the large bowl in the refrigerator! – making sure I stir it every 5 minutes).
In the meantime, beat eggs in small bowl at high speed for 5 minutes or until triple in volume.
Fold eggs into cooled chocolate mixture until well blended
Pour into prepared springform pan.
Bake at 400 degrees F for 15-20 minutes.  Cake edges will be set but center will jiggle when moved.
Cool in pan on wire rack for 1 1/2 hours.  Refrigerate for another 1 1/2 hours.  ***(At this time you can wrap WELL in plastic wrap and foil and freeze for up to a month).
Peanut Butter Mousse:
Combine 2/3 cup cream and peanut butter morsels in a small saucepan.
Cook over low heat, stirring constantly, until morsels melt and mixture is smooth.
Remove from heat and stir in vanilla.
Cool 25 minutes.
Beat 1 1/3 cup cream at high speed until soft peaks form.
Stir one-third whipped cream into peanut butter mixture.
Fold in the remaining whipped cream.
Spread over cake.
Top with mini chocolate chips and chopped peanuts.
Refrigerate until serving.
This is VERY rich.  A small serving should suffice.  Serves: 14