Chocolate, or not, Cinnamon Crunch Knots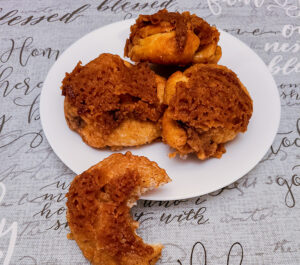 With Mother's Day coming up I've been thinking about my mom. Whenever I would visit, I would bring her a Cinnamon Crunch Bagel and that ad her day! She didn't like chocolate so I would make her a batch without chocolate and then me a batch with chocolate.
prep time 30 minutes
cook time 20 minutes
servings 8 – 10 knots
INGREDIENTS
· 1 tube of refrigerated bread dough
· 6 tablespoons salted butter, at room temperature · 1/4 cup granulated sugar · 3 teaspoons ground cinnamon, divided · 1/2 cup light brown sugar
· 1teaspoon flour
· 3/4 c mini chocolate chips – optional.
INSTRUCTIONS
1.Preheat the oven to 375° F. Line a baking sheet with parchment paper.
2. In a bowl, combine the granulated sugar and 1 teaspoon cinnamon.
3. On a floured surface, roll the dough out into a rectangle about 1/4 inch thick (about 8×10 inches). Don't roll the dough too thin or the filling will break through the dough. Spread the dough with 4 tablespoons softened butter and sprinkle with cinnamon sugar. If you are using chocolate chip this is the time to put the chocolate over half of the dough. Fold the dough in half, directly over the chocolate, pressing to adhere. Cut into 8-10 strips. Twist each strip into a loose knot, it doesn't need to be perfect. Some of the chocolate will fall out, just place it around your knots. Place on the prepared baking sheet.
4. Melt the remaining 2 tablespoons butter and combine with 2 teaspoons cinnamon, the brown sugar, and 1 teaspoon flour. Place clumps of the brown sugar mix over the knots. This is the "crunch" layer.
5. Transfer to the oven and bake 8-10 minutes. Remove from the oven and, working quickly, carefully spoon any of the brown sugar and butter that has melted off back over the rolls. Return to the oven and continue baking another 8-10 minutes, until golden.
6. Enjoy warm or at room temp… though warm is best!
This is the easiest way to create these delicious treats.
I also tried making it with frozen bread dough and it, too, came out delicious. However, it takes forethought and preparation…You need to let the dough rise (follow instructions on label). This will add a good 1 ½ hours to your prep time.
Also, you could make your own bread dough making it a wee bit sweet.
Hope you enjoy!!!!!