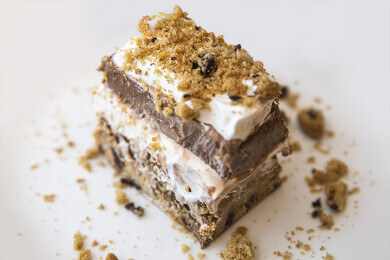 Ingredients:
1 16.5 oz package of chocolate chip cookie dough
8 Oz Cream Cheese (softened)
1 Cup Powdered Sugar
12 oz Frozen Whipped Topping (thawed)
3 Cups Milk
1 3.9 oz package instant chocolate pudding
1 3.9 oz package instant vanilla pudding
Method:
Press cookie dough into a greased 13×9 pan. bake at 350 degrees until golden brown. About 15 minutes. Remove and cool on a wire rack.
In a large bowl, beat the cream cheese and sugar until smooth. Fold in 1 3/4 cups of the whipped cream and spread it over the crust.
In a different large bowl, whisk the two pudding mixes and the milk for about two minutes. Spread over the second layer.
Top with remaining whipped topping.
Cover and refrigerate for 8 hours until set.