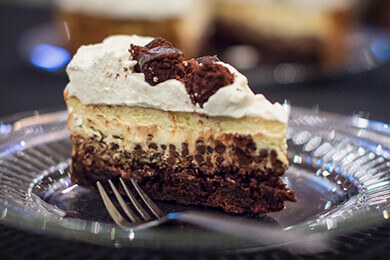 Brownie Chocolate Chip Cheesecake
Ingredients:
Recipe B:Eagle brand
* 1 (19.5 ounce) package Pillsbury(R) Classic Traditional Fudge Brownies
* 3 (8 ounce) packages cream cheese, softened
* 1 (14 ounce) can EAGLE BRAND(R) Sweetened Condensed Milk
* 3 large eggs
* 2 teaspoons vanilla extract
* 1/2 cup mini chocolate chips
Method:
1. Preheat oven to 350 degrees F. Grease bottom only of 9-inch springform pan. Prepare brownie mix as package directs for chewy brownies. Spread evenly in prepared pan. Bake 35 minutes or until set.
2. In large mixing bowl, beat cream cheese until fluffy. Gradually beat in sweetened condensed milk. Add eggs and vanilla; mix well. Stir in chocolate chips. Pour into prepared pan.
3. Reduce oven temperature to 300 degrees F. Bake 50 minutes or until set. Cool. Chill thoroughly. Remove side of springform pan. Garnish as desired. Store leftovers covered in refrigerator.
ALL RIGHTS RESERVED © 2018 Allrecipes.com