Apple Crisp Cheesecake Recipe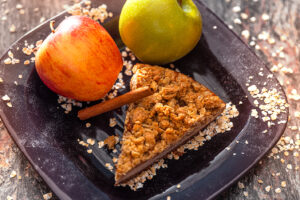 Ingredients
For the Crust
2 cups cinnamon graham cracker crumbs
1/4 cup granulated sugar
6 Tablespoons butter, melted
For the Cheesecake
2 (8 ounce) packages cream cheese, softened
1/2 cup brown sugar
2 teaspoons vanilla extract
1/2 teaspoon cinnamon
2 Tablespoons all-purpose flour
2 large eggs
For the Apples
3 Gala apples, peeled and diced
1/4 cup brown sugar
1/2 teaspoon cinnamon
For the Crisp Topping
1/2 cup all-purpose flour
1/2 cup quick oats
1/2 cup brown sugar
2 teaspoons cinnamon
4 Tablespoons unsalted butter, melted
Instructions
Preheat oven to 350 degrees. Place a large sheet pan on the very bottom rack and fill halfway with water. Line a 9 inch springform pan with parchment paper.
Mix together the graham cracker crumbs, sugar, and melted butter. Press the mixture evenly in the bottom of the springform pan.
Beat the cream cheese and sugar until very creamy. Add the vanilla, cinnamon, and flour and mix in thoroughly.
Add the eggs and mix until everything is mixed in. Do not over mix the batter.
Pour the cheesecake onto the prepared crust.
Stir together the diced apples, brown sugar, and cinnamon and set aside.
Add all the topping ingredients into a bowl and stir until completely combined. Use your hands to press the mixture into large crumbs.
Spoon the apples onto the cheesecake batter gently. Sprinkle the topping evenly over the apples.
Place the pan on the oven rack directly over the pan of water. Bake for 50-55 minutes. Remove from the oven and place on a wire rack. Cool 5 minutes, then run a knife around the outside edge of the cheesecake to loosen it from the pan.
Cool 1 hour, then place in the refrigerator for at least 6 hours or overnight to chill completely.
Serve sliced with caramel, Cool Whip, and apple pie spice, if desired.
Use a steam bath to bake the cheesecake. Place a sheet pan on the bottom rack of the oven. Fill it halfway with water and preheat the oven.
Do not over mix the cheesecake batter. This creates air bubbles that can cause a cheesecake to crack.