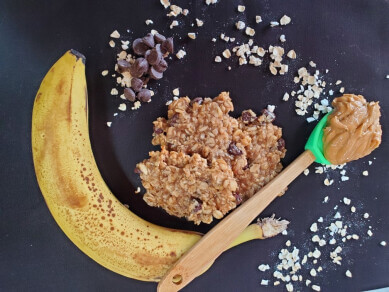 Four Ingredient Cookies
Thanks Sarah McMinn at My Darling Vegan for making up a recipe that even Audrey's husband, Steve can make!
Ingredients:
2 very ripe bananas, mashed
1 1/2 cups old fashioned oats
1/3 cup peanut butter
1/4 cup chocolate chips, or mix-ins of choice
Method:
1. Preheat the oven to 350F. Line a baking sheet with parchment paper and set aside.
2. Mash the bananas and combine them with the oats and peanut butter in a large mixing bowl. Mix well. Fold in chocolate chips. 3. Drop bite-sized spoonfuls onto the prepared baking sheet and bake for 10-12 minutes. Until lightly brown. Let the cookies cool 5 minutes on the baking sheet before transferring them to a wire cooling rack.
4. Store uneaten cooking in an airtight container at room temperature for up to 5 days.