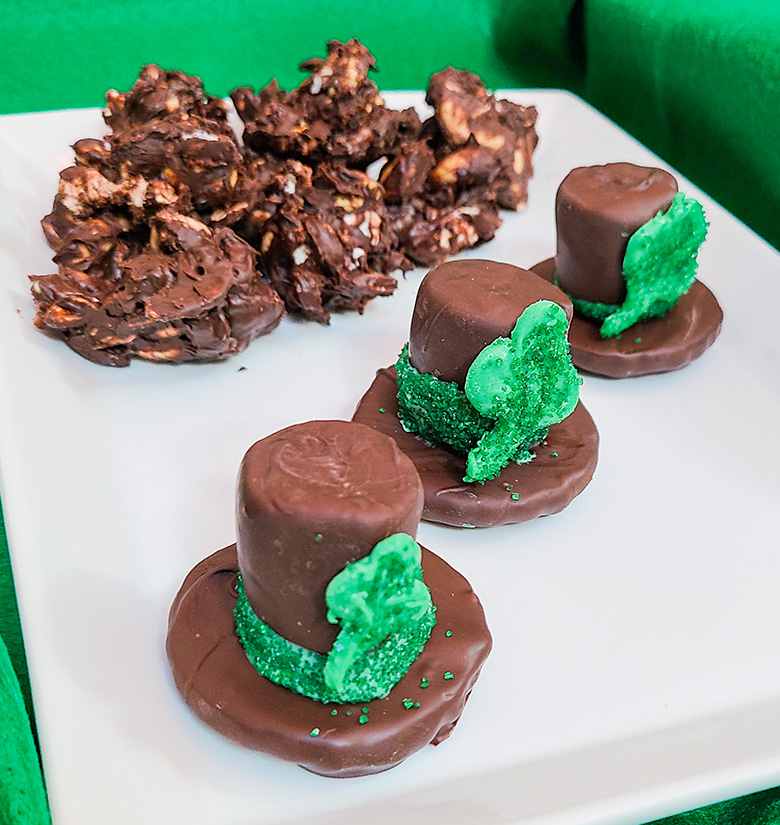 Leprechaun Hat S'mores
From Carrie Sellman thecakeblog.com
Ingredients:
Keebler Fudge Stripes Cookies – you can use any flat cookie that you can dip in chocolate and will taste good with chocolate and marshmallow.
Marshmallows – Regular sized, not the minis, nor the huge ones.
Dark Chocolate Candy Melts
Green Candy Melts – or White Candy Melts and green gel food coloring.
Green Sprinkles
Directions:
In a glass measuring cup, melt about 1 cup of the Chocolate Candy Melts. Start with 1 minute. Stir. They won't be very melted at this time. Microwave for another 30 seconds. Let sit for a minute or so and stir again. Keep stirring. Don't overheat the chocolate, if the chocolate is warm to touch, continue to stir until completely melted. If needed, zap another 30 seconds.
Dip the cookies in the chocolate and shake off excess chocolate back into the measuring cup. I hold the cookie in the middle and shake because the marshmallow will cover up the finger marks in the middle. Place upside down on parchment or waxed paper. Let set.
Using a toothpick, dip marshmallow in chocolate and coat the entire marshmallow. Shake off excess chocolate back into measuring cup. Then put chocolate dipped marshmallow on parchment or waxed paper to set. Hints: Put toothpick in a little more than halfway but not all the way through the marshmallow. When you transfer the marshmallow to the paper, twist the toothpick that is inserted in marshmallow and gently hold a clean toothpick on top of marshmallow and pull out while continuing to twist. I suggest using a clean toothpick for each marshmallow.
Melt green candy melts the same way you melted the chocolate candy melts. If you can't find green candy melts, use white candy melts and drop in a few drops of green GEL food coloring. Stir until completely incorporated. Dip the bottom side of the coated marshmallows in the green just enough so you have a band of green coming up the side of the marshmallow. You want to make it look like there is a ribbon around the bottom of the hat. Immediately sprinkle green sprinkles over the green candy melts and place on the coated cookies.
As they set, pour the leftover melted green candy melts into a pastry bag or zip lock bag. You will most likely need to reheat the candy melts for 10-20 seconds. Cut a SMALL hole in bottom
corner of the bag. On another piece of parchment or waxed paper and working quickly make three small dots, about the size of a mini chocolate chip, in the form of a triangle, yes, the dots should be nearly touching one another. Immediately take a clean toothpick and swirl the three dots together to form a shamrock shape starting with the two bottom dots, then to the top dot. Keep toothpick in candy and pull toward you to create a stem. Again, immediately sprinkle with some green sprinkles. Let them set for at least 5 minutes.
Attach the set shamrock to the 'hat' using melted green candy melts. You will likely need to reheat for 10-15 seconds.
And now you have some fun treats to share with those around you!
More hints:
Make sure you are organized, get everything ready before you start.
Do not be in a hurry! This has the potential to be messy, especially if you are having kids help you.
Do not wear white, or any clothing that you would mind getting adorned with chocolate!
Most importantly…Have fun!!!