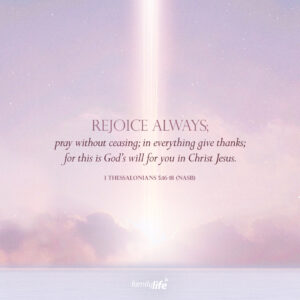 The apostle Paul describes how to live like a Christ-follower.
I Thessalonians 5:16-18  Rejoice always; pray without ceasing; in everything give thanks; for this is God's will for you in Christ Jesus.  (NASB)
First of all the apostle says "Happiness is a choice"!  No one feels happy all the time — so you must choose to be cheerful.  I'm not talking about a sickeningly happy person with a smile pasted on their face!  When I don't feel especially happy, I try and look outwardly the same as when I feel happy.  Christ-followers have God's Spirit living within and when we obey this command, God's power is released when you choose to be joyful.  Frequently, the feeling of joy follows the choice to be joyful.
It's great to have a group of believers around you when you're going through tough valley times, but it's not necessary.  With you and God . . . that's enough!  God has a way of quietly, powerfully answering your prayers in a way that lets you know He is with you and watching over you.  Be thankful for every answered prayer and cultivate a spirit of gratitude.  Soon, you'll begin to recognize God's hand in answered prayer, your heart will be filled with joy, and the first thing you want to do is thank Him!