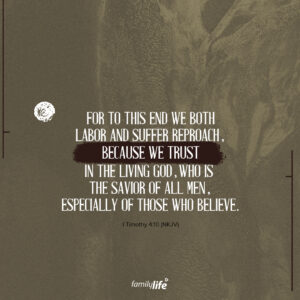 The apostle Paul writes of the joy of seeking and knowing the living God.
I Timothy 4:10 For to this end we both labor and suffer reproach, because we trust in the living God, who is Savior of all men, especially of those who believe.  (NKJV)
The apostle is writing to his protégé Timothy about the value of rigorously training himself to live a life that is godly (i.e. set apart to the service of Christ); to schedule regular times to read and study God's Word and pray.  Paul says such a lifestyle comes at a cost: "we . . . labor and suffer reproach".
But there is a reward!  As we draw closer to God, (James 4:8), He draws closer to us.  I believe God is looking for those whose hearts are fully committed to Him, that He may strengthen them..  (2 Chronicles 16:9 NLT)  That's the motivation and hope — to draw near to the living God!  But it requires discipline and intentionality.
Scripture taken from the New King James Version®. Copyright © 1982 by Thomas Nelson. Used by permission. All rights reserved.