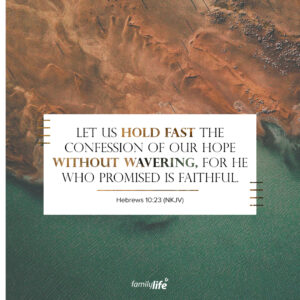 The author of Hebrews calls on Christ-followers to share their hope with others.
Hebrews 10:23  Let us hold fast the confession of our hope without wavering, for He who promised is faithful.  (NKJV)
Every day you are to abide — live continuously — in the presence and power of God's Spirit, which lives in each Christ-follower.  Having been brought from the darkness of sin into the light of God's forgiveness, you are not to hesitate to share the Good News!
Relay to others the hope, the freedom from sin's guilt, which is found in a relationship with Christ.  As you share the blessing — God will faithfully bring new life to others!
Scripture taken from the New King James Version®. Copyright © 1982 by Thomas Nelson. Used by permission. All rights reserved.