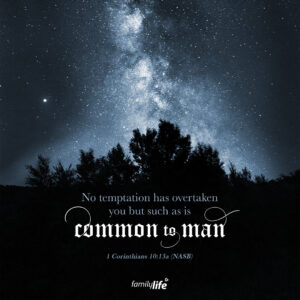 The apostle Paul writes that God will always provide a way out of temptation — if we will take it.
I Corinthians 10:13 No temptation has overtaken you but such as is common to man; and God is faithful, who will not allow you to be tempted beyond what you are able, but with the temptation will provide the way of escape also, so that you will be able to endure it. (NASB)
The reason to be thankful in this verse is clear – God never allows any temptation into your life that you cannot refuse. The Lord asks His followers to "be holy as I am Holy". If there were certain temptations that could not be escaped from, God could never hold the believer to such a high standard!
Temptation can be extremely powerful. Albert Barnes wrote about the words, "overtaken you", as meaning "seized upon or assailed:   as when an enemy attempts to hold us fast." Even in those kinds of temptations – we can be thankful God will always provide a way of escape!