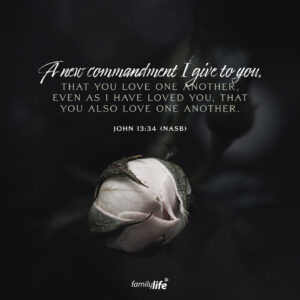 The apostle John writes of Christ's final lesson to the disciples before His death.
John 13:34 [Jesus said] "A new commandment I give to you, that you love one another, even as I have loved you, that you also love one another."  (NASB)
It's the last supper with Jesus and the disciples . . . Judas has just left to betray the Savior:  imagine Jesus leaning forward and summing up the 10 commandments with a new commandment — "love one another".  Most everyone believes love will make the world a better place — but how do you make that happen?  Jesus says, "as I have loved you, you should love each other."  But again, how does Christ's love change the way we love?
Perhaps an example from science will help:  if you leave a piece of metal in contact with a magnet . . . over time that metal will acquire magnetic qualities.  As a Christ-follower, determine to stay close to Him:  living in obedience, reading His Word, and communicating with Him in prayer.  Over time . . . you will begin to love like Christ!