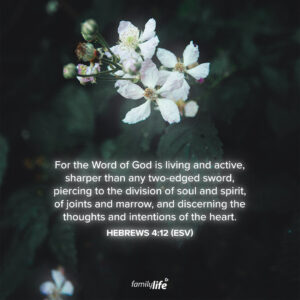 The author of Hebrews declares the Bible to be the means by which you can know and discern the ways of God.
Hebrews 4:12 For the Word of God is living and active, sharper than any two-edged sword, piercing to the division of soul and spirit, of joints and marrow, and discerning the thoughts and intentions of the heart. (ESV)
The truth of God penetrates all the arguments you have assembled to barricade the door of your heart. Reading or hearing the Scriptures will reveal the state of your heart and mind … anything not in sync with the truth of God will be laid bare. This underscores the absolute necessity of daily Bible reading!
One of the wisest decisions I ever made was in college, when I decided to spend at least 5 minutes a day reading God's Word. Sometimes, not often, I have missed this important time with God, but I can tell you my life has been different because of the time spent reading Scripture.
"Scripture quotations are from the ESV® Bible (The Holy Bible, English Standard Version®), copyright © 2001 by Crossway, a publishing ministry of Good News Publishers. Used by permission. All rights reserved. May not copy or download more than 500 consecutive verses of the ESV Bible or more than one half of any book of the ESV Bible."