Thursday, June 24, 2021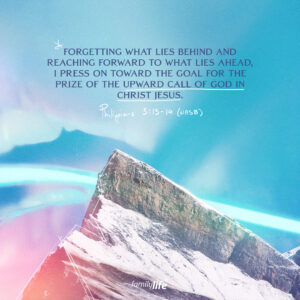 The apostle Paul writes about finishing strong for Christ.
Philippians 3:13-14 [ the apostle Paul wrote] . . . Forgetting what lies behind and reaching forward to what lies ahead, I press on toward the goal for the prize of the upward call of God in Christ Jesus. (NASB)
The apostle Paul had a lot in his past that could have given him sleepless nights filled with regret.  After all, he had hunted down the followers of Christ; imprisoning them and even having them put to death!  What advice does Paul have for those who have committed grievous wrongs before or after following the Savior?
Paul did not let past sins hinder him from embracing and living in the forgiveness and unmerited favor of God.  "Forgetting the past and looking forward" is the way to live for Christ.  Forgetting past failures for sure . . . but also forgetting the successes!  Don't live in the past — reach for the future and all God has planned for you.  Paul's motto was:  "the best is yet to come!"