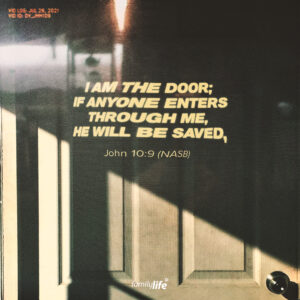 The apostle John shares Jesus' formula for a truly satisfying life.
John 10:9 [Jesus said] I am the door; if anyone enters through Me, he will be saved, (NASB)
People want to have a successful life based on what they think is best.  The real tragedy comes when they achieve their goals and discover nothing they have achieved is what they really wanted!  Wherever you are in life right now . . . determine to do life God's way, by His strength, for as long as you have.  That's all God asks!
As a Christ-follower you are sent into a world that is hostile to Christ!  The good news is that Christ promises to be with you and will never leave you!!  As a Christ-follower you will find nourishment for your soul as you study the Word of God and fellowship with other believers.  Though there will be times of danger, hurt, and disappointment — because you are about Christ's work — it will be the best, most satisfying life you could imagine!