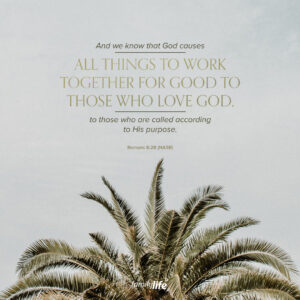 The apostle Paul declares that God works the events of the lives of His followers into that which makes them like Christ.
Romans 8:28 And we know that God causes all things to work together for good to those who love God, to those who have been called according to His purpose. (NASB)
You can be thankful that God promises to take all of the events of our lives – even the bitter, painful ones – and works them together for our good. What good? The good of using the experiences of our lives to make us like Christ! Some experiences will result in suffering, Jesus is plain about that, but some experiences will be joyful.  As we trust God with the events of our lives He will give us peace.
James Gill wrote:  all things work together for good; they "now" work together, they are always working together, whether it can be observed or not: prosperity and adversity, whether in things temporal or spiritual, work "together", and make an intricate woven work in providence and grace; which will be viewed with admiration another day".