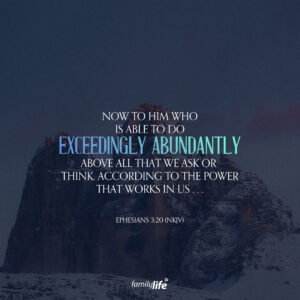 The apostle Paul describes the power source to do all that God wants of you.
Ephesians 3:20  Now to Him who is able to do exceedingly abundantly above all that we ask or think, according to the power that works in us . . . (NKJV)
The apostle is writing to a church that is being tempted to lose heart!  Ever feel that way?  Do you feel hopeless and helpless in the face of the attacks of the Evil One?  Are you crying out to God to make His healing known in a crooked and corrupt time?  Paul responded by praying, in the preceding verses, that these Christ-followers would be "strengthened with might" and be "rooted and grounded in love", that they would be "filled with all the fullness of God".
What a great prayer!  But how will these things come to be?  Through your strength?  No, by God's strength which is able to accomplish more than we could ask or think!  What are you dreaming of doing for the Lord?  Someone wrote:  "if you insist on manipulating it and trying to bring it to pass, the best you can hope for is what you can ask or think.  But if you put your case in the hands of this mighty God . . . you will discover . . . He will bring you to the place where you stand in amazement and awe and wonder at what He has brought into your experience and your life."  There is hope in knowing what God is calling you to do – and knowing He has the power to do it through you!
Scripture taken from the New King James Version®. Copyright © 1982 by Thomas Nelson. Used by permission. All rights reserved.