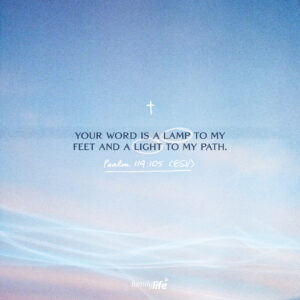 The Psalmist wrote that the Bible is a guide to safety, as you seek to avoid the minefields of life.
Psalm 119:105 Your Word is a lamp to my feet and a light to my path.  (ESV)
The world is dark, indeed, having sponged away the Light of the Bible from many public places. The brightness of the Light is not the emphasis here – but rather the presence of it! As the Word is taken in – this culture of darkness becomes light and the pitfalls of the 21st century are clearly revealed.
Albert Barnes wrote, "He who makes the Word of God his guide … is in the right way. He will clearly see the path. He will be able to mark the road in which he ought to go … He will see where those by-roads turn off from the main path – often at a very small angle … He will see obstruction which may lie in his path, and any … precipice … down which, in a dark night, one might fall. Man needs such a guide, and the Bible is such a guide."
"Scripture quotations are from the ESV® Bible (The Holy Bible, English Standard Version®), copyright © 2001 by Crossway, a publishing ministry of Good News Publishers. Used by permission. All rights reserved. May not copy or download more than 500 consecutive verses of the ESV Bible or more than one half of any book of the ESV Bible."