Friday, July 9, 2021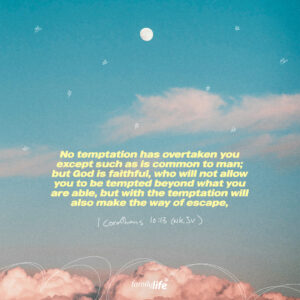 The apostle Paul declares God has your back when facing a temptation – and will provide a way out.
I Corinthians 10:13  No temptation has overtaken you except such as is common to man; but God is faithful, who will not allow you to be tempted beyond what you are able, but with the temptation will also make the way of escape,  (NKJV)
Someone once said, "I can resist anything but temptation!" Temptation is no laughing matter, it's bait from Satan to destroy your life! It's no sin to be tempted, but if we keep thinking about the attraction of sin, we'll be drawn closer and closer to sinning.
Good news! God places a limit on all temptations the Christ-follower faces: you can resist and flee from every temptation – God promises you that! There is always a way out — so take it — and escape towards becoming the kind of person God commands you to be.   The joy of living meaningfully and joyfully for Christ will—over time — overcome sin's attraction.
 
Scripture taken from the New King James Version®. Copyright © 1982 by Thomas Nelson. Used by permission. All rights reserved.