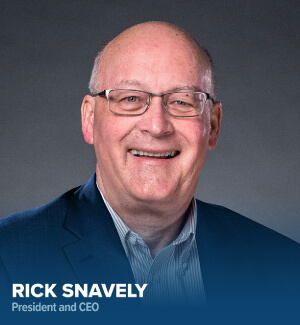 Rick counts it a privilege to serve as President and CEO of Family Life. Frankly, he didn't see himself ending up as a business manager when he first got started in radio programming – a job he could have done for the rest of his life. However, what motivated Rick into ministry leadership was his pure desire to do what God wanted.
Rick was barely three years old when his parents moved to New York to begin the ministry in 1957. Just ask Rick about his childhood memories. He'll tell you what a blessing it was to have grown up in a family where serving Christ came as naturally as eating and sleeping. Because of that, God has miraculously worked and provided for Family Life, building Rick's trust and faith in big, big ways.
When Rick was in high school he felt Jesus directly calling him to be part of Area Youth for Christ, the ministry started by his dad. Rick has always seen a hero in his dad. Dick (who is now with the Lord) served God with joy, passion, and excitement – very contagious things. Rick wanted that and sensed God leading him back to the ministry after college. He never imagined that God would give him the honor of managing Family Life – a ministry that has been blessed beyond comprehension.
When Rick turned 50, he asked God what he should do with the next 50 years. The answer was: Do what you've been doing. Use the ministry of Family Life to reach as many people as possible with Christ and his message of love and hope. Rick then rededicated his life to following the call set before him.
Rick loves to brag on his wife, Sherri – his best friend, number one consultant, and love of his life. He thanks God all the time for knowing exactly what he needed in a companion. She is far better a woman than he deserves … and he'll tell you that! They are blessed with two great children and their spouses and one granddaughter. Their son Chad and daughter-in-law Kasey live in Nashville and are proud parents of daughter Mila. Their daughter Rachelle and son-in-law Justin, live in St. Louis. Gibson, their wonderful Golden Retriever is a big part of the family as well.
What does Rick love more than God, family, and radio? Not much, but yard work is on that list. Can you believe it? It's true that landscaping can be fun and rewarding work. And after playing in the dirt all day, Rick appreciates the occasional muscle ache that follows some good physical labor. Hey, it beats the occasional headache after office work!