Operation Christmas Child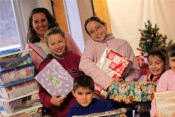 delivers hope around the world each year by helping hurting children living in countries stricken by war, poverty, disease, or natural disasters. For many of these children, the shoe box gift will be the first gift they've ever received.
Learn more about packing a shoe box and locating a participating church near you. The purpose is charitable and the process is fun!
Build your Box Online: Here
2022 National Collection Week: November 14–21.
Find a location near you