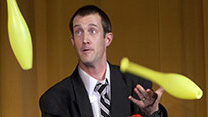 Seniors Luncheon with Nels Ross
Thursday, October 14, 2021
, 
10:30 AM – 1:00 PM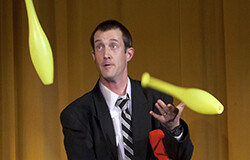 For directions click the following link: Family Life
Artists or event website: http://www.injest.com
This luncheon will feature Nels Ross.  Nels entertains and uplifts people. As a variety entertainer and comedy juggler, he thrills audiences with flying objects and hilarious humor… All "in jest," or in fun. Join us for some side-splitting, gravity-defying fun!
Seniors luncheons are for seniors that are 55 and older.
Doors open at 9:45 a.m.
Tickets for this luncheon go on sale August 23, 2021. Purchase tickets online or call 800-927-9083. Deadline to purchase tickets for this luncheon is Monday, October 11 at noon.