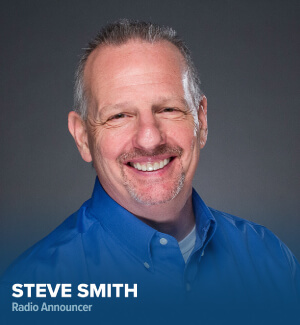 A native of the Keystone State, Steve spent his younger years in suburban Philadelphia. Leaving home for the first time, Steve went off to college and graduated with a degree in Communications from Ohio University. His first job out of college was with WCLT in Newark, Ohio, where he worked as an account executive and did play-by-play announcing for high school games.
Steve's radio career has taken him to Connecticut, North Carolina and Oklahoma, where he spent 19 years as a morning show host in Tulsa with former AC station KBEZ 92.9FM, now BOB-FM. Once in Oklahoma, Steve's life changed in many ways. For one, he turned life over to Christ on January 15, 1988—his very first day in Tulsa. That's a pretty important change!
Later on, Steve reconnected with his 8th grade sweetheart, Audrey. Imagine dating your 8th grade sweetheart again in your early thirties. God willing, it worked, and Steve and Audrey married in June of 1989. They have two children—Laura and Will. (yes… Will Smith).
Steve has been with Family Life since July 2011. He and his wife, Audrey (Audrey's Desserts First on Nick Picks), love working under the same roof together. A few of Steve's favorite things are: his family, his Philadelphia sports teams, and most of all—his God.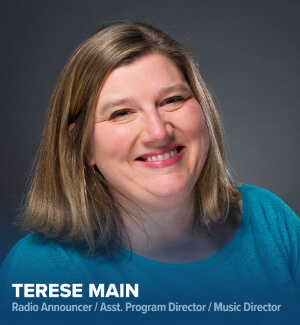 God wastes nothing. So never take a chance meeting as mere coincidence! Terese met Family Life President Rick Snavely backstage at a concert one night and didn't think very much of it. As time went on, her heart softened to the possibility of joining the ministry. The Lord increased that desire to the point where she could think of nothing she wanted to do more!
You can hear Terese as co-host of Family Life Mornings and host of Family Life mid-days as she shares an encouraging mix of music, programming and fun.
Before joining Family Life, Terese spent nine years on the air at WARM 101.3 in Rochester, NY, where she was Program Director. Her voice is also heard on Christian radio stations in Florida, Minnesota, Wisconsin, California, Kansas, Indiana and Delaware. Having grown up in Dryden, NY, attended Ithaca College and then moved to Rochester, Terese has spent her whole life in the Family Life listening area. She's come to appreciate the beauty and wonder of this part of the country.
Terese accepted Jesus as her savior during High School, but walked away from Him during her 20's. During that time, she met and married Scott, never having talked about her faith. A few years later, the topic came up and both shared the stories of their salvation, and started attending church, as they put Christ as the forefront of their lives. How good God is to have saved these two for each other! They are blessed with daughters Emily and Ashley.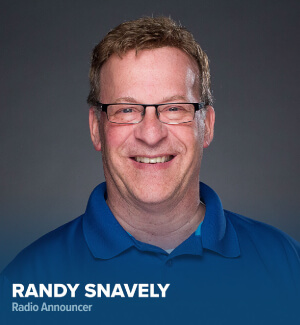 Before coming to Family Life, Randy worked in Kansas City with Youth for Christ. He spent six years there – a very exciting and rewarding time since many lives were changed by Christ. Randy was eventually led to Family Life by God's hand in his life. It's an exciting story too long to write out here. So if you see Randy, grab a seat and ask him about it.
Golf is near the top of Randy's fun-things-to-do list. He also plays fantasy baseball, enjoys watching his kids compete in school sports, speaks at churches and other events, and loves spending time with his family. Adam, Drew, Luke and Olivia are all into soccer and swimming. Randy's wife, Krisitina, and the rest of the family live in Bath, NY.
Originally from St. Louis, Missouri, Kelly is a Christ-follower and a widowed-mom of three great young adults: Daniel, Mary, and Jonathan.
Kelly lost her husband to cancer after a 24-year marriage, but still clings to God's truth in 1 Corinthians 13: 12-13, verses her husband named as "the family verses" when he was very sick.
"For now we see only a reflection as in a mirror; then we shall see face to face. Now I know in part; then I shall know fully, even as I am fully known. And now these three remain: faith, hope and love. But the greatest of these is love."a
Having worked in radio for nearly two decades, Kelly has spent 10 of those years in Christian radio. She loves the music and its power to encourage and inspire worship. She also loves talking to her listeners about God's grace and love. His goodness never gets old!
Kelly lives in "Music City" — Nashville, Tennessee, but will always call St. Louis home. Her favorite things to do are spending time with friends and family, taking long road trips, baking, and writing. Her adventurous spirit leads her into doing almost anything outdoors. Tops on her list are hiking, snow skiing, and cycling.
Afternoons w/ Sonny Delfyette
Sonny comes to Family Life with over 30 years of radio experience. He has worked in Baltimore, Kansas City, Virginia Beach, Detroit, West Palm Beach and most recently on a nationally syndicated show based out of Los Angeles, California. Wow – Sonny had finally hit the big time … or had he?
While living in Los Angeles, two disasters (the Chatsworth fires and the Chatsworth train-wreck) both happened less than three miles from his house. It was as if the Lord was trying to get his attention. Sonny prayed, "Lord, if you don't want me here, take me away." Sonny clearly heard God ask, "Are you sure?" Sonny's eyes quickly filled with tears as he replied, "Yes, as long as I know it's you, Lord." That same week Rick Snavely sent Sonny an email saying he had a job and a home for Sonny at Family Life. Less than a week later, and knowing exactly where he was heading, Sonny's fun-in-the-sun was over. Hello Family Life Network and snowy Bath, NY!
Sonny is a proud husband to Nicole. The couple has a daughter, Simone, and share a happy home with a rescued German Shepherd named Mimi. Sonny's hobbies include rooting on his Pittsburgh Steelers and West Virginia Mountaineers. Oh, and playing an occasional video game or two. Some guys never grow up – that's our Sonny!
The Family Hour w/ Natalie Stanfield
Natalie serves as Production Director for the ministry. She supervises an incredibly talented team of writers/audio producers, writes copy, produces recorded audio pieces to air on the network, directs the Kids Corner, and hosts the Family Hour.
She is also a single mother blessed with four young men and is grateful that God sees fit to use her for ministry purposes to other single moms.
Natalie's love of writing and audio production lead her to be on the air as a DJ in order to allow her to do commercial work. Natalie spent over fourteen years in mainstream radio as a morning show and mid-day host, as well as Production Director. Natalie also received certification from the Radio Advertising Bureau as a Professional Commercial Copywriter.
She left mainstream radio after the birth of her youngest son in 1996. It was then she began using her talents solely for Christ, working for a small Christian station in Western Kentucky. That job lead to an audio production and on-air position at a national Christian radio network in Tupelo, MS before the Lord moved her and her sons here to Family Life in 2008.
In her spare time, Natalie also does voiceovers for commercial, industrial narration, e-learning, and the "on-hold" marketing world.
Every Sunday morning, Justin seeks to redirect thoughts from crying children, bleary eyes, and what to wear — to the God of
Creation: His goodness, greatness, and unconditional love. Justin also can be heard every weekday after Midnight. So when the baby makes demands at 3:00 am or when it's time to roll out of bed for a third shift, Justin is there with positive music and programs.
The perfect formula for peace and fulfillment is found in God's Will. For Justin, that led to working in Christian radio and teaching college students how they could do the same. It was a dream situation — until one day the Lord began loosening the roots he'd put down in the Midwest. Ron Hutchcraft likened it to a mother eagle "stirring the nest" preparing the eaglets to fly. It was clear that God was calling Justin elsewhere to serve. After praying and seeking direction, a phone call came from Family Life. Rick talked of a vision: of not just one station, but of building a network of stations that would minister and encourage.
For fun, Justin reads books, collects old radios, and listens to podcasts. He also dreams of restoring a 1938 Air King Radio and riding a train across the country. However, his greatest treasure apart from following Christ, is growing together with his wonderful wife, Diane… and watching God unwrap the adventure that lies ahead!