Gary Short / Biblical Counseling Director, Counselor (LCSW-R)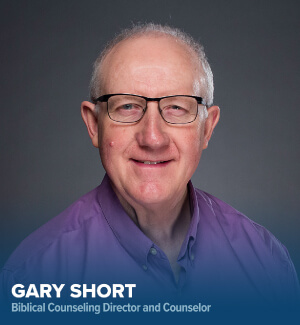 In addition to overseeing the Biblical Counseling department, Gary counsels individual, couples, and families in the Bath, Corning, and Elmira areas of Upstate New York. Gary loves every aspect of being a counselor and daily thanks God for the great privilege of helping those that seek Godly wisdom for their concerns.
Gary was led to Family Life in 1976, back when the ministry was operating as Area Youth for Christ. He worked as a caseworker for a boy's home called New Life Homes-Snell Farms, a former division of Family Life. In 1982, Gary sensed God calling him to develop a new counseling department! Although excited about the opportunity, Gary had a feeling that once the department was underway, he would leave it in the good hands of another counselor to follow another God-led path.
Sure enough, Gary spent the next 20 years as a school social worker at the Greater Southern Tier BOCES. Gary was called back to Family Life part-time in 2003, and after five years, was asked to serve as a director and counselor of the very department he helped to establish over two decades ago. God moves in beautiful circles.
Barb Short / Biblical Counselor (LCSW-R, RN)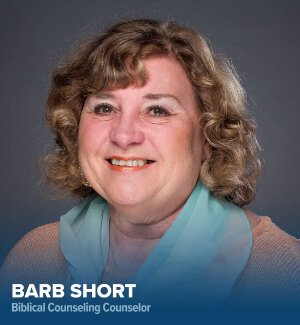 Barb counsels individuals, couples, families and small groups with difficult life issues such as anxiety, depression, domestic violence, and sexual abuse. She is blessed by the Lord to help hurting people in any way she can.
After working for 18 years at Steuben County Community Mental Health Center, Barb joined the Biblical counseling staff in September 2010. Her husband, Gary, is the director, and is happy to add his wife's skills to the team! Along with her counseling career, Barb also is a registered nurse and has worked in number of different nursing specialties of over 20 years. She has a Master's Degree in social work from Syracuse University and has advanced training and certification in EMDR, a treatment technique for handling and processing trauma. As a registered nurse, Barb finds her medical background to be a valuable asset in the counseling field.
In her spare time Barb enjoys "playing in the dirt" – a euphemism for tending her large perennial garden! She and Gary also have had the privilege of traveling overseas to provide missionaries with encouragement and counseling services as they serve the Lord. The work is strenuous but very rewarding, and they look forward to more opportunities like these.