Radio Staff
Announcers, Production, News
Dave Margalotti / Director of Radio Operations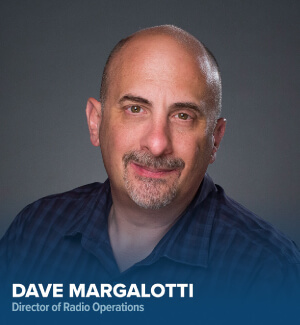 Dave caught the radio bug as a kid growing up in New Jersey. It started when Dave got his first small transistor radio. Instead of sleeping when his parents sent him to bed, he would lie awake for hours in the dark listening to music and the voices of his favorite announcers.
By the time Dave was a teenager he had decided that he wanted to be one of those voices. So at Marist College in Poughkeepsie, NY, Dave majored in Communications and landed his first job behind the microphone at the college radio station, WMCR 91.9 FM.
After graduation, Dave began his professional radio career working Sunday mornings for WHVW 950 AM in Hyde Park, NY. That position later lead to a full-time position as Mid-Day Host and eventually Dave's first experience as a Program Director. Following a move back to NJ, Dave joined WSUS 102.3 FM where he worked for nearly 9 years. Before coming to Family Life, Dave spent nearly 16 years as the Program Director and Operations Manager for WVNJ 1160 AM in the New York City area.
Dave and his wife Patty have raised 6 children: Lexi, Chelsea, Max, Sam, Johnna, and Harry. While they were both raised in the Catholic Church, Dave and Patty came to know and love the Lord after enrolling their children in Sunday school at a local Presbyterian Church. It was at that church where Dave's family was moved by the Holy Spirit to become new members and active Christians.
Terese Main / Assistant Program Director, Music Director, Morning Announcer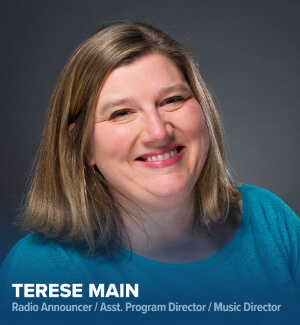 God wastes nothing so never take a chance meeting as mere coincidence! Terese met Family Life President Rick Snavely backstage at a concert one night and didn't think very much of it. As time went on, her heart softened to the possibility of joining the ministry. The Lord increased that desire to the point where she could think of nothing she wanted to do more!
You can hear Terese as co-host of Family Life Mornings with Steve & Randy. Before joining Family Life, Terese spent 15-years on the air in Rochester, NY.
Having grown up in Dryden, NY, attended Ithaca College and then moved to Rochester, Terese has spent her whole life in the Family Life listening area. She's come to appreciate the beauty and wonder of this part of the country.
Terese accepted Jesus as her savior during High School, but walked away from Him during her 20's. During that time, she met and married Scott, never having talked about her faith. A few years later, the topic came up and both shared the stories of their salvation, and started attending church, as they put Christ as the forefront of their lives. How good God is to have saved these two for each other! They are blessed with two daughters, Emily and Ashley.
Steve Smith / Morning Announcer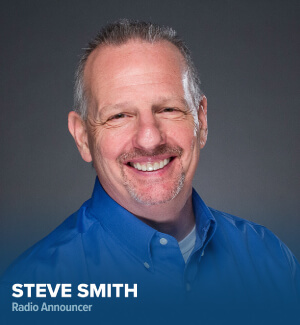 A native of the Keystone State, Steve spent his younger years in suburban Philadelphia. Leaving home for the first time, Steve went off to college and graduated with a degree in Communications from Ohio University. His first job out of college was with WCLT in Newark, Ohio, where he worked as an account executive and did play-by-play announcing for high school games.
Steve's radio career has taken him to Connecticut, North Carolina and Oklahoma, where he spent 19 years as a morning show host in Tulsa with former AC station KBEZ 92.9FM, now BOB-FM. Once in Oklahoma, Steve's life changed in many ways. For one, he turned life over to Christ on January 15, 1988—his very first day in Tulsa. That's a pretty important change!
Later on, Steve reconnected with his 8th grade sweetheart, Audrey. Imagine dating your 8th grade sweetheart again in your early thirties. God willing, it worked, and Steve and Audrey married in June of 1989. They have two children—Laura and Will. (yes… Will Smith).
Steve has been with Family Life since July 2011. He and his wife, Audrey (Audrey's Desserts First on Nick Picks), love working under the same roof together. A few of Steve's favorite things are: his family, his Philadelphia sports teams, and most of all—his God.
Randy Snavely / Morning Announcer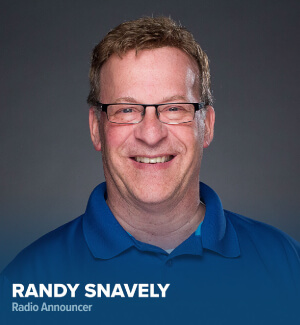 Before coming to Family Life, Randy worked in Kansas City with Youth for Christ. He spent six years there – a very exciting and rewarding time since many lives were changed by Christ. Randy was eventually led to Family Life by God's hand in his life. It's an exciting story too long to write out here. So if you see Randy, grab a seat and ask him about it.
Golf is near the top of Randy's fun-things-to-do list. He also plays fantasy baseball, enjoys watching his kids compete in school sports, speaks at churches and other events, and loves spending time with his family. Adam, Drew, Luke and Olivia are all into soccer and swimming. Randy's wife, Krisitina, and the rest of the family live in Bath, NY.
Kelly Corday / Mid-day Announcer
Originally from St. Louis, Missouri, Kelly is a Christ-follower and a widowed-mom of three great young adults: Daniel, Mary, and Jonathan.
Kelly lost her husband to cancer after a 24-year marriage, but still clings to God's truth in 1 Corinthians 13: 12-13, verses her husband named as "the family verses" when he was very sick.
"For now we see only a reflection as in a mirror; then we shall see face to face. Now I know in part; then I shall know fully, even as I am fully known. And now these three remain: faith, hope and love. But the greatest of these is love."
Having worked in radio for nearly two decades, Kelly has spent 10 of those years in Christian radio. She loves the music and its power to encourage and inspire worship. She also loves talking to her listeners about God's grace and love. His goodness never gets old!
Kelly lives in "Music City" — Nashville, Tennessee, but will always call St. Louis home. Her favorite things to do are spending time with friends and family, taking long road trips, baking, and writing. Her adventurous spirit leads her into doing almost anything outdoors. Tops on her list are hiking, snow skiing, and cycling.
Sonny Delfyette / Afternoon Announcer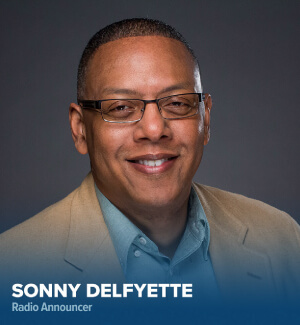 While our afternoon announcer Sonny Delfyette is a native New Yorker, he moved from Long Island to his mother's birthplace in West Virginia at age 9. During Sonny's senior year in high school the radio bug bit him and he found work at an AM/FM combo in Wheeling. Soon he would be "chasing the check" moving to Ft. Pierce/West Palm Beach, Virginia Beach, Baltimore where he would work with an up and coming comedian named Mo'Nique, and where Sonny would meet his future wife, Nicole. Then it was on to Kansas City, followed by Detroit, and back to Virginia Beach.
While he was able to find success throughout his radio career, he felt a nudge to serve the Lord and would meet Family Life President, Rick Snavely, who offered him an on-air position. But he was hesitant, he still felt "something bigger" was coming, so Sonny declined the offer, stayed in touch and moved to Greenville, SC. Then that "something bigger" came! That up and coming comedian now had her own nationally syndicated radio show based in Los Angeles, and Mo'Nique wanted him as her co-host. It was his dream come true, being heard all over the country and making great money. But after just a few months, he was miserable because the show was as worldly as they come. Then he received an email from Rick Snavely stating that if he ever wanted to leave L.A., there was a place for him at Family Life, so he prayed "Lord if you don't want me here, take it away!" He heard an audible reply of "Are you sure?" in which he cried, "Yes." Sonny was fired the next day! When he called Rick to ask what was available, Rick asked "Do you feel the Lord calling you?" He laughed and said, "Rick, the Lord is yelling at me! Yes!!" and Sonny joined Family Life in December of 2008.
Sonny has gone from the secular formats that celebrated celebrities and gossip, to Family Life that focuses on impacting listeners with the message of hope found in Jesus. He knows that you may be listening looking for encouragement, and he prays you hear that every time he speaks. He encourages you to live your life in a way that people who don't know God but know you, will come to know God because they know you.
Sonny celebrated his 40th year as a radio broadcaster in September 2020. He credits his longevity to his #1 cheerleader, his wife and best friend, Nicole. The couple's daughter, Simone, is now living her dream as a teacher in Texas.
Justin Dix / Overnight Announcer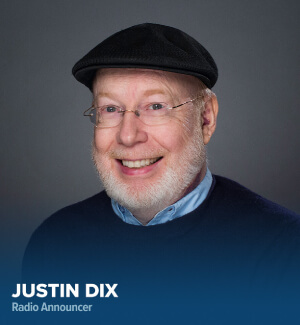 Every Sunday morning, Justin seeks to redirect thoughts from crying children, bleary eyes, and what to wear — to the God of
Creation: His goodness, greatness, and unconditional love. Justin also can be heard every weekday after Midnight. So when the baby makes demands at 3:00 am or when it's time to roll out of bed for a third shift, Justin is there with positive music and programs.
The perfect formula for peace and fulfillment is found in God's Will. For Justin, that led to working in Christian radio and teaching college students how they could do the same. It was a dream situation — until one day the Lord began loosening the roots he'd put down in the Midwest. Ron Hutchcraft likened it to a mother eagle "stirring the nest" preparing the eaglets to fly. It was clear that God was calling Justin elsewhere to serve. After praying and seeking direction, a phone call came from Family Life. Rick talked of a vision: of not just one station, but of building a network of stations that would minister and encourage.
For fun, Justin reads books, collects old radios, and listens to podcasts. He also dreams of restoring a 1938 Air King Radio and riding a train across the country. However, his greatest treasure apart from following Christ, is growing together with his wonderful wife, Diane… and watching God unwrap the adventure that lies ahead!
Natalie Stanfield / Director of Radio Production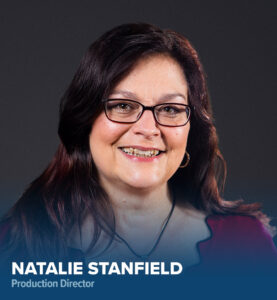 Natalie serves as Production Director for the ministry. She supervises an incredibly talented team of writers/audio producers, writes copy, produces recorded audio pieces to air on the network, directs the Kids Corner, and hosts the Family Hour.
She is also a single mother blessed with four young men and is grateful that God sees fit to use her for ministry purposes to other single moms.
Natalie's love of writing and audio production lead her to be on the air as a DJ in order to allow her to do commercial work. Natalie spent over fourteen years in mainstream radio as a morning show and mid-day host, as well as Production Director. Natalie also received certification from the Radio Advertising Bureau as a Professional Commercial Copywriter.
She left mainstream radio after the birth of her youngest son in 1996. It was then she began using her talents solely for Christ, working for a small Christian station in Western Kentucky. That job lead to an audio production and on-air position at a national Christian radio network in Tupelo, MS before the Lord moved her and her sons here to Family Life in 2008.
In her spare time, Natalie also does voice overs for commercial, industrial narration, e-learning, and the "on-hold" marketing world.
Tim Powers / Senior Production Assistant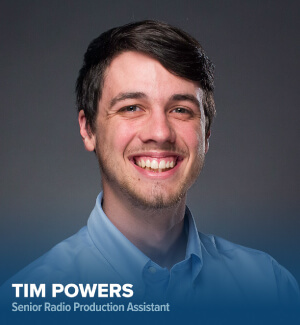 Tim can't recall a time when he wasn't trying to communicate something creatively. As a child, he and his brothers recorded their own "radio show" to cassette tapes, voicing their own goofy personalities and splicing in audio snippets of their favorite movie characters to create humorous "interviews." In high-school, Tim discovered a passion for digital sound by creating EDM (Electronic Dance Music – think "Blue" by Eiffel 65 or "Sandstorm" by Darude).
It was this love that led him to pursue a degree in Broadcasting and Digital Media with an Audio focus at Cedarville University. While in the program, Tim's interest in radio as a medium for creative communication grew strong. As a lifelong listener of Family Life, Tim excitedly secured an internship in radio production at the station, which he says "confirmed his love for audio production in Christian radio." After graduating from Cedarville, Tim accepted the title of radio production assistant at Family Life where he daily exercises his passion for audio production in ways that spread the good news of Christ.
Tim and his wife, Trinity, enjoy the simple things in life most: fellowship with family and friends, playing with their Australian Shepherd, and philosophical discussions about Anakin Skywalker's fall to the Dark Side and Peter Parker's moral obligations as Spiderman.
Merri Propert / Radio Production Assistant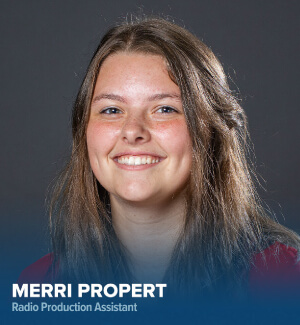 Merri lives in Bath, and although she doesn't have a pet, she often goes home to visit her family's standard poodles, and sometimes to visit her family. (Yes, a little humor there.)
Growing up in Houghton, NY, Merri made the decision to follow Christ at two years old. She admits that sounds unbelievably young, but growing up in a Christian home, Merri's parents helped lead her toward the truth. As she grew up, Merri's faith became more and more her own.
At home, Merri was always playing Family life in the background. She loved listening to the music and memorizing the songs. She would sit with her younger brother and sister listening to the Family Hour and Kid's Corner, always deep in the stories. She never thought that one day she would work there to help create those fun stories.
Merri was homeschooled and, when she was 18 years old, finished her high school years with an associate's degree that she earned online from Liberty University. The summer after graduating, she decided to contact Family Life to see if she could do a summer internship. Family Life took a chance on her, and she was able to learn some of the ins and outs of the production department.
After taking an amazing opportunity to attend Capernwray Bible School for six months in England, Merri came back to the States and began volunteering at Family Life. Soon a job opened in the production department, and before she knew it, Merri was hired! She praises God every day for the fantastic opportunity that God has given her to work at Family Life.
Jesse Gabel / Radio Production Assistant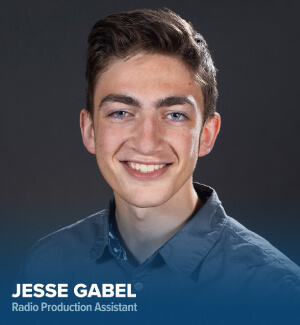 As the oldest of five brothers, Jesse grew up in the small town of Gowanda. He was no more than eight years old when he started producing his own stop-motion animations and short films at home. With his trusty camcorder and goofy array of sibling actors, there was hardly ever a dull moment.
Jesse was a teenager when he started working part-time at a local hardware store. He would listen to Family Life on the radio with the hope of someday working here. While in school, he volunteered with our production team, and more than a year later, was offered a job. After graduating, Jesse began working as a part-time radio production assistant and has enjoyed every minute since.
Apart from his job, Jesse enjoys writing fiction and running role playing games with friends from around the world. He is a proud nerd and professional pastor's kid who praises God for the incredible opportunities he has been given.
Trudi Cook / Radio Assistant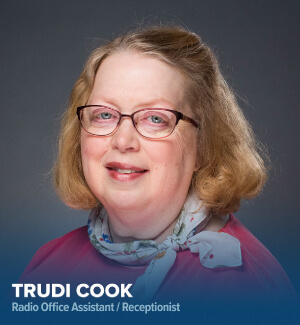 Family Life's radio staff wouldn't survive long without Trudi, our Jill-of-all-trades. She takes radio questions from listeners, coordinates programs and contests, and helps organize a couple of Family Life's annual events.
Trudi also acts as Family Life's traffic coordinator, a job that requires preparing quotations for non-profit organizations that want to do promotional spots on the radio network.
Previously, Trudi worked as a secretary for an assortment of small business in the Philadelphia area. While in Philly, changes in Trudi's personal life coincided with God's call to relocate to New York to be closer to her family. Going on faith, she moved to New York, trusting that God would provide a job… and He did!
At that point, Trudi has been an avid listener of Christian radio for many years, so when the Lord opened the door to work at Family Life, she knew the Lord was in it. She marvels at how her experience gleaned from past jobs was just the training she needed to meet the needs of her diverse position at Family Life.
Trudi likes spending time with family and playing with her cats. She also enjoys crafting, sewing, and creating art.
Dan Kennard / Regional Underwriting Representative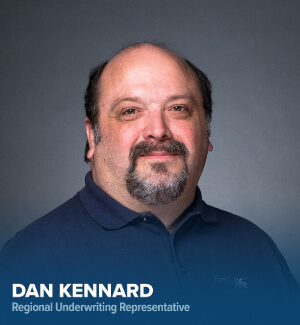 "Dan's job keeps him on the go as he works to build relationships with business people and organizations in Western and Northcentral PA. Through these relationships, ministry-minded businesses have the opportunity to underwrite and sponsor Family Life programs. The most exciting part of Dan's job is hearing first-hand how God is working in the hearts and lives of those who come in contact with Family Life and its various forms of outreach. This truly is Christ's ministry!
Christian radio has been a big part of Dan's life's work. After completing his degree in broadcasting at Tennessee Temple University in 1988, he went to work full-time at WDBA-FM – a Christian radio station in DuBois, PA. Dan served in many positions at WDBA, most recently as general manager. When the Lord entrusted Family Life with the ownership of WDBA (now WCOH) in October 2007, Dan was adopted into the Family Life family as a public relations representative, a position he held until the summer of 2010. After that, Dan taught history and Bible full-time to junior and senior high students and served on the administrative team of DuBois Christian Schools. Early in 2017, the Lord made it possible for Dan to re-join the Family Life team in his current role.
To Dan, there is nothing better than spending time with his wife Diane, their two grown children, and their growing families. When they are not at home in DuBois, PA, the Kennards' favorite place to spend time together is Ocean City, N.J. Dan is also a U.S. history buff."
Heidi von Ahn / Regional Underwriting Representative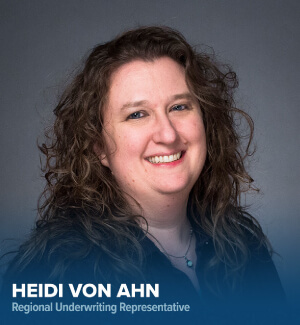 Of all places to be saved, Heidi and her husband, Dieter, came to know the Lord while living in Las Vegas! From the day they met at Alfred College in NY, Dieter knew he would marry Heidi, but she didn't see it. Good thing God had a plan!
After their honeymoon, Heidi moved to be with Dieter in Las Vegas where Heidi later worked as a wedding coordinator at Bellagio and then an entertainment/special events coordinator at The Regent Las Vegas (now JW Marriott). Heidi started at both properties before they officially opened — how exciting! But the experience was nothing compared to working in Community Relations at Women's Resource Medical Center, a crisis pregnancy center in Las Vegas. It was the most incredible experience watching the Lord bless this life changing ministry and the people it served!
As their family began to grow, Heidi, Dieter, and their young son, Brandon, moved back to Upstate NY. The couple worked for Heidi's family's business for several years until a career change took her to a local retail store. As time passed, Heidi began missing the soul nourishing work she did at the resource center in Las Vegas. On her lunch breaks, Heidi would park her car by a relaxing view of the Chemung River and find refreshment as she listened to Family Life on the radio. It became a great way to share stories, thoughts, and laughter with her coworkers back at the store.
Then after praying and actively searching for a new job for two years, God opened the door for Heidi to work with Family Life, helping the ministry connect radio listeners with local businesses, churches, and organizations that share the same values.
Heidi is so thankful for the support from her husband, Dieter, and their two incredible boys, Brandon and Derek. Heidi says "her family shares a passion for the truth that we're all able to be lights in this world. She cannot wait to watch God's plan unfold during this new life-chapter, and to witness how he will stretch their light even further."
Gary Fizzano / Regional Underwriting Representative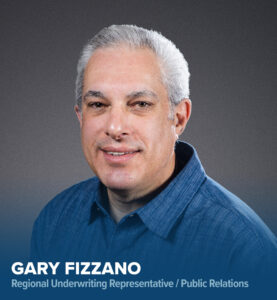 Gary grew up in Ridley Park, a suburb of Philadelphia. He started in Christian radio when he was only sixteen as a part-time board operator and program producer for WVCH-AM in Philly. He also helped launch its sister station, WSJI-FM, in South Jersey.
Growing in his faith and wanting to learn more about the Bible, Gary decided to attend Word of Life Bible Institute in 1984. There he developed a passion for missionary work. Four years later, he and his wife, Tina, headed overseas to serve with Word of Life Fellowship in Italy. After a couple years on the mission's field, they came back to the States. In the suburbs of Philly once again, Gary worked as a youth pastor and worship leader for Woodlyn Baptist Church. He served there for several years before finishing his Theology/Camp Administration degree at Appalachian Bible College.
Soon after graduating, Gary got a call from one of his old bosses. He was offered another job with WSJI-FM as station manager. He also served as director of sales at WVCH-AM – the same stations he worked for in his teens. After working in radio for a while, God called the Fizzano's to Family Life in 2006. (Yes, this is Gary's second time here!) After five years with Family Life, and still carrying a passion for camp ministry, Gary moved on to take a staff position at Three Springs Ministries – a retreat center in Morris, Pa that facilitates all kinds of retreats and camps for youth and adults.
In 2018, Gary came back to Family Life to be a part of the PR and underwriting team. Now he helps build healthy relationships between Family Life and local churches and businesses in the regions of Central and Eastern Pa.
Gary lives in Morris, PA, with his wife, Tina. They have two grown children, Jessica and David. Gary thoroughly enjoys acting and has been in many Family Life productions in the past. He also loves playing and performing music, horseback riding, hunting, and anything outdoors.
Amy Zimmermann / Regional Underwriting Representative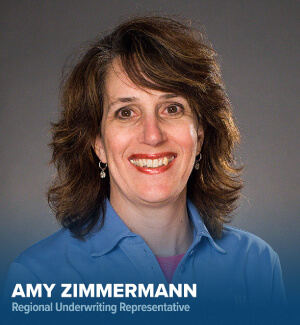 Amy spent her early years growing up in Morgan Hill, a small country town in the sunny-California Bay Area. She had no religious upbringing or training and didn't know anything about God until some kids in high school tried to tell her about Christ when she was 15.
Curiosity got the better of her and Amy started attending youth group at a local church. Shortly thereafter, Amy accepted Christ as her Lord and Savior. Her family was not supportive of this decision and tried to discourage her from being "brain washed." This created a lot of tension at home but Amy held firm to her beliefs.
However, she wandered away from God in college not wanting to be labeled one of "those Christians" because she wanted to fit in and have fun. In her junior year, Amy's mom tragically passed away of cancer. This was a huge wake up call to Amy that she needed to get serious with her life. She quit pursuing worldly things and started making changes. Amy later joined Inter-Varsity Christian Fellowship and started going back to church.
After graduation, Amy moved to San Diego where she found herself without friends and very much alone. She knew of a church that a friend in college had told her about, so she started attending Horizon Christian Fellowship. One of the first messages she heard sounded like it was designed just for her and she made the decision at that moment that Christ would not just be her Savior, but He would be her Lord.
Amy met her husband, Rick, at Horizon, and after a year of marriage, they moved to Western New York where he was from. They now live in Lockport and have had the privilege of raising and homeschooling five wonderful daughters: Tamara, Laurel, Rebecca, Mikaela and Audrey. Amy looks forward to meeting and establishing wonderful relationships while being a "friend" you can turn to in the community!
Lindsay Frye / Regional Underwriting Representative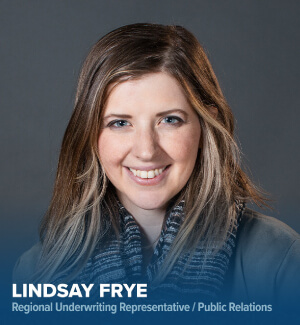 Lindsay grew up on dairy farm in Union Springs, N.Y. As the daughter of dedicated Christian parents, she spent countless hours within the church walls. Her parents were hardworking and led Lindsay by example, giving much of their time and resources to the church and teaching her about good stewardship.
As college approached, Lindsay chose to attend Cedarville University. Later she transferred to a trade school in Florida to pursue a Bachelors' Degree in Media and Communications. Her time there proved to be full of change and challenges, particularly as she faced adversity with peers. With no church or congregation for support, she wavered in her confidence and faith, both of which had been so sturdy before.
After graduation, Lindsay remembers a significant time where God's great grace helped her regain assurance in Christ. She was given the chance to witness to a friend and saw the presence of the Gospel working firsthand! In that moment, the Lord made himself clear, and there was no denying that His presence was near and guiding her forward.
After that experience, Lindsay had opportunities to move all over the country, working in New York City, Los Angeles, and eventually finding her way to Colorado where she met her husband, Kyle, an arborist and avid mountaineer.
Soon after they were married, Kyle suffered a spinal injury from being caught in an avalanche. The accident changed his life, and the couple decided to move back to New York to be near family. In late 2019, Lindsay and Kyle were blessed with a baby boy. Their family lives in Cortland and is passionate about sharing the Gospel to those in need.
Terry Miller / Underwriting Coordinator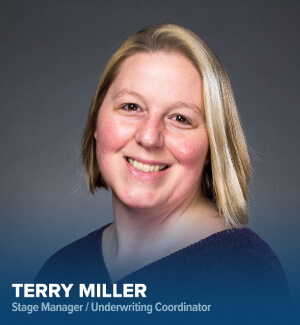 Terry was raised in Attica, NY, and even though she didn't grow up in a Christian home, the Lord had a great plan in mind for her future.
Terry's mom spent much of her life searching for spiritual truth. When Terry was 12, her mom found a church and rededicated her life to Christ. Around that time, she decided her daughter should attend a youth convention called "Acquire the Fire." Reluctantly, Terry went, but it was there she met the Lord, joined a youth group, and met her now husband, Steve.
Terry has loved musical theater ever since adolescence. In middle school, one of her friends introduced her to Phantom of the Opera. Terry was hooked. She and her sister would drive around singing the Copacabana soundtrack without a care in the world!
Later in her college years, Terry and Steve had a mutual friend tell them about Sight & Sound. The couple didn't do much with the information except tuck it away. Two years later, and closing in on their wedding date, the pastor of their local church insisted they take time out to pray about their future together. The Lord brought Sight & Sound back to mind. Within a span of a few months, they both had job offers. The Lord was making their way.
After 14 years of employment at Sight & Sound working in production and stage management, the couple felt the Lord calling them back to their roots and family in Western New York. The pastor from Terry's mother's church suggested she look at Family Life's website to see if they had any openings – and here she is!
Terry works at Family Life as stage manager for the Performing Arts department and helps the radio ministry as an Underwriting Coordinator. She is "very excited for the opportunity to use her gifts and talents to work with these amazing two teams."