Sandy Parker / Office Manager, Executive Secretary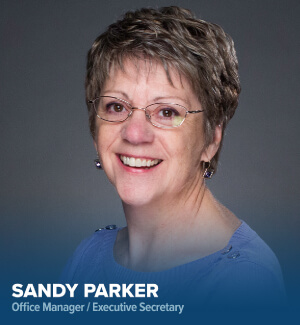 Sandy Parker has many titles – Office Manager, Board Secretary, and Department Supervisor. She's happiest when juggling many things at once – obviously! Sandy enjoys lots of responsibility and considers it a privilege to work "behind the scenes." She'll do whatever it takes to help other departments get things done.
As you've probably guessed, Sandy has held many different titles throughout her career, including Insurance Claims Department Supervisor in Texas; a shoe store manager in New Mexico; a Collections and Foreclosure Supervisor in Texas; and a legal secretary to four attorneys in Bath, NY. Phew!
In 1994, Sandy took a job at Family Life as a secretary for Dick Snavely. Five months later, she was promoted to Office Manager. Sandy enjoys working alongside each employee of Family Life and truly loves what she does. Past jobs didn't hold any real purpose for Sandy, but since coming to Family Life, her work has meaning – the result of being in God's Will. Sandy will say, "I want to see the light from God's flashlight just ahead of me, no matter where I am."
Sandy and her husband Pete were married for 39 years before God gathered him up into Heaven on December 23, 2019. She loves the countryside of Western New York, taking pictures, making handcrafted cards, birdwatching and gardening. Sandy says she is extremely grateful to be a child of God and to be used by Him here at Family Life since 1994.
Jackie Snavely / Data Processor / Office Assistant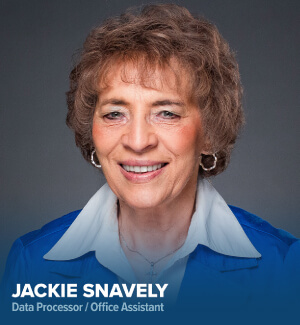 Jackie does part-time work for Family Life, but is still very involved in what goes on day-to-day at the ministry. She helps the ticket office with deposits and lends a hand in the kitchen when needed.
When Jackie was ten years old, she was sent to an orphanage in Millersville, PA after the death of her father. The orphanage was a good home ran by a Mennonite denomination in Lancaster County. After three years there, Jackie was sent to a foster home where she was taught the value of hard work on a farm. This experience stayed with Jackie, and shaped her life as a girl.
Jackie met her husband, Dick, at a birthday party when she was a teenager. Jackie was dating someone else at the time, but a year later the two ended up meeting again at a church service. Much to Jackie's embarrassment, a friend set them up "to meet" after the service let out. After two years of dating, it was clear what God had for them.
Dick and Jackie married June 21, 1952 and went straight into full-time ministry. Dick worked for Billy Graham's ministry for two years before moving on to pastor a church in West Virginia. In 1957, the Lord called them to New York to organize Area Youth for Christ (YFC). Jackie knew in her heart that being Dick's wife meant being a strong helpmate, supporting his daily work for Christ.
As a homemaker, Jackie raised four children – a daughter and three sons, all of whom serve Family Life in some way. After the kids grew up and started families, Jackie had more time to serve at Family Life, work she loves doing! Jackie also loves to read and has more than 1,100 books in her home library. Her life-prayer is to honor God and to teach her children and grandchildren how to love and live as a follower of Christ.
Cindy Prunier / Receptionist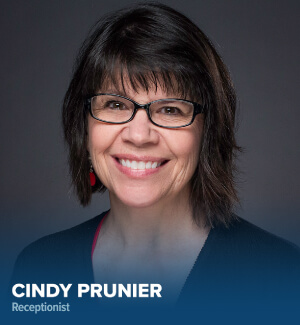 Being Family Life's receptionist, Cindy is genuinely compelled to make every person feel like their call is the most important call of the day. She may never meet the people she speaks with, but Cindy is blessed to use her gifts and talents to make a special impression.
Looking back, every time she talks about how God provided jobs for her and her husband at Family Life, Cindy gets goose bumps! There was a time when both of their previous jobs had been in jeopardy due to budget cuts. Giving their concerns over to God, both husband and wife prayed for a place of employment where they could help further the Lord's work.
The Pruniers prayed for over a year, and after hearing about the receptionist job on FLN, Cindy eagerly applied. While waiting for an interview, Joe remarked with determination, "I'm going to work at Family Life, too!" The very next day Cindy heard of another job opening at the ministry – one for a building and grounds supervisor! Cindy quickly told her husband, Joe, and the Lord's plan became quite obvious. Now both full-time employees, Cindy and Joe are humbled to a part of a ministry having meant so much to them throughout the years!
Prior to Family Life, Cindy worked in the Elmira School District as an attendance clerk and welcome center receptionist. Before that, she held jobs in special education as a teacher's aide, secretary, and yearbook advisor. Cindy has three married sons of her own and three step-children. Between them, she and Joe have several grandchildren. In her free time, she loves spoiling the grand kids, dabbling in photography, and scrap booking.
Lydia Sweatt / Ticket Agent, Office Assistant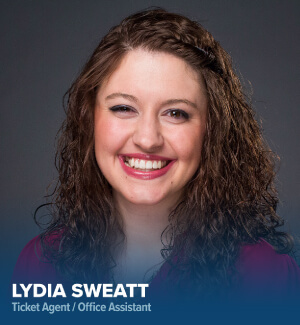 There is rarely a dull moment in the front office and Lydia enjoys the various responsibilities of her job. Ticket orders, daily deposits, online registrations, and monitoring inventory keep her very busy! Lydia says one of the best parts of her job is the incredible group of ladies she's honored to work with each day. What a blessing they are in her life!
Lydia started at Family Life in 2007 as a part-time receptionist. In May of 2012 she was thrilled to accept the job of a ticket agent, get a new desk and a whole new set of responsibilities. For Lydia, it's an incredible and fulfilling thing to be included in the things God is doing at Family Life. Along with her front office duties, Lydia spends time with the Performing Arts staff, as she loves theater, acting, singing, and helping with the Youtheatre programs and summer camps.
Lydia also enjoys tackling construction projects with her husband, trying her hand at DIY designs, and sipping on a cup of good coffee.
Hillary Slayton / Ticket Agent, Office Assistant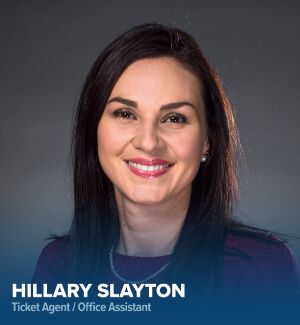 Hillary has enjoyed being a stay at home mom for most of her adult life. She now works in Family Life's ticket office with co-workers she says are "the sweetest of people." (We like you too, Hillary!)
Hillary met her high school sweetheart, Cody, at Avoca Central School. After graduation, they moved to San Antonio, Texas, so Hillary could start her career in the Air Force. They were married shortly thereafter.
During her first year in the military, Hillary served as a medical technician at Wilford Hall Medical Center in a GYN clinic. She later moved to Labor & Delivery where her responsibilities shifted to starting IVs, sending off labs, setting up equipment, and checking vitals. Caring for the newborn babies after delivery was the most rewarding part of her job. Hillary says "the whole thing was so beautiful and scary at the same time. I loved it."
After four years serving the Air Force, Hillary and Cody found out they were expecting a baby of their own. Hillary made the decision to leave the job she loved to stay home with her family. As the years passed and their family grew, the Slayton's made the decision to leave the San Antonio area to move back to Upstate New York where most of their extended family lives. They missed the country and wanted their kids to know their grandparents, uncles, aunts and cousins.
The Slayton's have 3 beautiful children and love going to their soccer games and wrestling tournaments. Hillary also enjoys a good movie in her free time.