Nick Finlayson / Food Service Director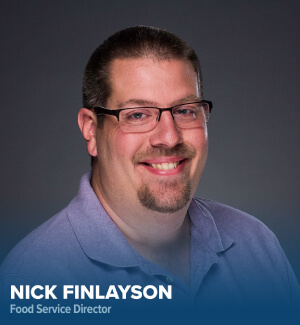 Nick is head chef at Family Life, creating menus and cooking delicious meals for events. It's no small job considering Family Life hosts a range of 30-40 events a year! In the past, Nick cooked for large establishments like hotels, restaurants, banquet halls, colleges, and retirement homes. His most recent position was as chef manager at Hilltop Retirement Home in Johnson City, NY. There he cooked for Hilltop residents and managed the culinary staff.
Nick is excited about working with food again. His last few jobs have been corporate and managerial in nature, but at Family Life, Nick gets to do what he loves – create new and interesting food in the kitchen! He loves experimenting with new ideas and food recipes, and has a passion for marinades and seasonings.
Nick didn't spend much time in the church growing up. He met his wife Angie in college, and because of her witness, began a relationship with Jesus Christ. Angie took Nick to church one morning, and it was by her Godly influence, and the influence of other believers, that Nick learned to walk with God. Now this awesome couple is walking side by side in the light!
Nick loves spending time with his family and has been married to Angie for several wonderful years. They have three children – Amelia, Kathryn and Jacob – and moved to New York from Delaware not too long ago. It didn't make sense to Nick at the time, but the Lord was leading his family back to where Angie grew up, and back to her childhood church – Primitive Methodist Church in Johnson City.
Nick is excited about the future and about God's plan for his family and career at Family Life. He cherishes the opportunity to minister to people through his food.
Barbara Sue Skinner / Kitchen Supervisor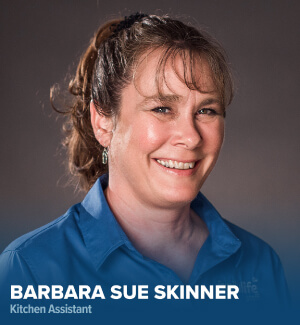 Barbara Sue grew up in Dalton, NY, and was raised in a Catholic family. By the time she was 10 years old, her mom and dad began studying the Bible. Her family struggled to live the Christian life, but they sought Jesus the best they knew how.
In her teens, Barbara Sue went looking for work. She answered a newspaper ad for Great Lakes Collection Bureau. She was nervous about applying but found satisfaction in the work and began rising through the corporate ranks. "The collections industry was exciting," says Barbara Sue. "The work was goal driven and all about helping people overcome negative obstacles with a positive solution."
After working in managerial roles for various companies and investment firms for over a decade, the Lord led Barbara Sue home. Her dad had been diagnosed with cancer, so she found collections work close to home to be with her parents. After her father's passing, Barbara began spending more time with her mom, a strong believer and spiritual sounding board for Barbara.
One night, led by God's grace and love, Barbara Sue broke down in her room and asked Jesus to take control of her life. She had married a man and only months later wound up in a destructive relationship. It was during this time that Barbara Sue began volunteering at Family Life. She formed friendships, received encouragement, and grew in her faith.
A few years later, the Lord led Barbara Sue to leave the collections industry and take a great customer service job with Schwan's Food Service. Barbara didn't know it then, but the Lord's favor wasn't about to end with Schwan's. After being a dedicated volunteer for several years, Family Life asked Barbara Sue if she would be our full-time kitchen supervisor. After several years of volunteering, Barbara Sue was overjoyed. This position was her dream come true.
Audrey Smith / Pastry Chef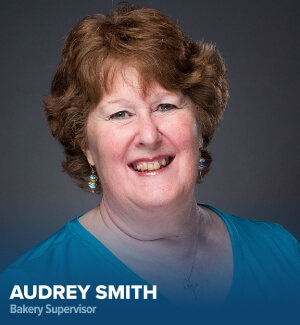 Audrey grew up in the suburbs of Philadelphia with her parents, two older brothers, and twin sister. She was raised in a Christian home, attended youth group, and was involved in Young Life. Despite a good upbringing, Audrey felt her need for Jesus and accepted the Lord at a Christian camp the summer before 4th grade.
When Audrey was no more than five years old, she fell in love with baking. Her grandmother taught her how to bake cakes and other goodies. She also enjoyed music growing up, especially singing and playing cello. She would even bake her cello teacher cakes around the holidays. In high school, Audrey toured Europe with The American Youth Symphony and Chorus. She even spent a year touring the U.S. in a women's barbershop quartet.
Several years after graduating college, Audrey flew to Tulsa, OK, to care for her ailing father. Little did she know she'd end up moving there and reconnecting with her 8th grade sweetheart, Steve! The couple was eventually married and began raising their family together. Audrey also started a small cake business from her home – all because God was behind it!
One day, Audrey went cake shopping for a friend's wedding. The prices were appalling! She felt the Lord telling her to make the wedding cake herself. The night before the big day, Audrey had to create 100 fondant roses. She shouted to God in frustration, holding a glob of fondant over her head, as she reminded Him that "making this cake was His idea!" As her hand came down, there in her palm was a perfect fondant rose. She started to cry. God had indeed equipped her for His call.