Keith Chase / Director of Events & Concert Promotions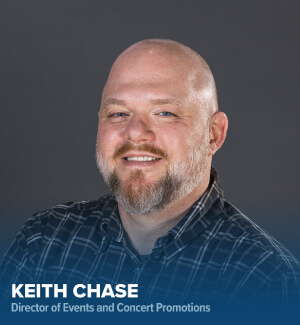 Keith grew up in Whitesville, NY, and occasionally attended youth groups and church services in his youth. He believed he understood what it meant to be a Christian. However, one morning when Keith was 24 years old, he went to an Easter service that changed his life. That day, Keith had an encounter with the Living God and gave his life to Jesus.
Now more serious about his faith than ever, Keith and his family started attending Elysburg Church in Elysburg, Pa, where the pastor invited him to a youth group meeting. After a season of volunteering for the group, Keith took the reins as youth leader and began his career in youth ministry.
Committed to God's call, Keith served in full-time ministry for 15 years, mostly leading, teaching and pastoring teens. In 2007, he learned about Youth for Christ (YFC) and fell in love with its approach to reaching lost youth. His passion for YFC led him to take a position as director of the drop-in center in Wellsville. He later accepted the job as executive director of Southern Tier Youth for Christ and served in that role for 6 years.
In 2016, Keith stepped away from ministry to focus on his family. Two years passed and a very difficult season arrived as Keith faced the loss of his father and divorce from his wife, the latter a situation he didn't think possible. In 2019, Keith made a change and moved to Horseheads, New York, where he took a sales job and waited on God.
The following winter, Keith's sister-in-law heard about a job opening at Family Life. Music had always played an important role in Keith's life, and having led and organized many ministry events, he applied for the job. The rest, they say, is history.
Debbie Fero / Events & Volunteer Coordinator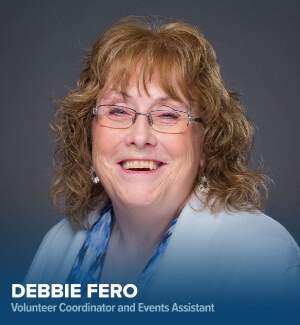 Debbie is responsible for planning, coordinating, and overseeing events and activities for adults, including singles, seniors, and homeschooling parents. Her days are filled with phone calls, emails, and face-to face communication, all to draw adults into having a personal encounter with Jesus. Debbie's heart is for Christ, and for the people He puts in her path.
Prior to answering God's call to full-time vocational ministry, Debbie spent 19 years working in the high-stress newspaper industry. She fine tuned her administrative and organizational skills as Circulation Director for the Daily Review in Towanda, PA. As part of the management team there, Debbie played a big part in corporate strategic planning and customer service training.
When her marriage of 21 years ended in divorce, Debbie found herself searching for "someone" to fill the hole in her heart. Her search ended while attending her first Family Life event, a SALSA (singles) conference, where she realized Jesus was drawing her into a personal relationship.
Over the next few years, Debbie discovered how to use her God-given gifts and even her hurts to minister to women and singles. As her passion for ministry grew, God made it clear that He was calling her to be a part of the Family Life team. After a year of raising personal support, Debbie took her leap of faith, left her job at the newspaper, and joined Family Life.
Debbie enjoys spending time with her family. She also likes spending time with friends, watching movies, and doing an occasional jigsaw puzzle.
Mike Heyd / Events Coordinator Assistant / Collaborative Pianist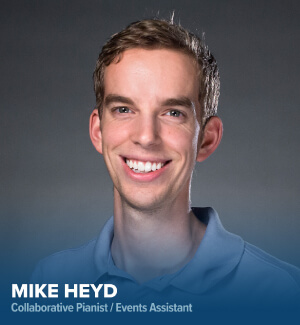 Mike grew up in the tiny village of Nauvoo, Pennsylvania, as the oldest of three children on his family's beef farm. He attended church all of his life and grew up listening to Family Life. With a passion for music, Mike began playing the piano at age 6 and hasn't stopped yet!
From church choirs to orchestra pits and school chorus concerts, Mike's first love is being an accompanist. Hard work, the support of his family and friends, and plenty of prayer have all afforded him many once-in-a-lifetime opportunities.
In 2004, Mike made his New York City debut at Lincoln Center and returned ten years later to perform at Carnegie Hall with National Sacred Honor Choir, an ensemble sponsored by Houghton College. He also was selected to accompany the 2010 Pennsylvania All-State Choir in Pittsburgh and most recently traveled to Viterbo, Italy to work for a summer as an opera pianist.
Even though Mike grew up in a Christian home, it wasn't until years later that he began to grasp the meaning of living fully dependent on God. In 2014, while in Boston and working on his Master's degree, Mike felt the Lord calling him into a deeper, more dedicated relationship. Around this time, ideas of going into full-time ministry quietly began taking root in his heart.
During an especially difficult season in 2016, Mike began praying for an "open door" – one that would lead to the precise place God wanted him. Two months later, Mike excitedly set off to begin an adventure with the Lord… at Family Life. Now as part of our very busy Events staff, his job is to help ensure that Family Life's concerts, conferences, and seminars run as smoothly and efficiently as possible.
Though most of Mike's formal education is in music, the Lord certainly prepared him for his job here. With over 10 years of experience coordinating events, Mike has served as the activities coordinator for Child Evangelism Fellowship, music director for community theater productions and camps, and was instrumental in organizing the annual missions fundraising concert at his church. He also held the position of president and state representative for the Houghton College National Association for Music Education.
Mike has a Bachelor's Degree in Music Education from Houghton College and a Master's Degree in Collaborative Piano from The Boston Conservatory. In addition to coordinating events, Mike plays piano for Family Life Performing Arts.
Trinity Powers / Events Assistant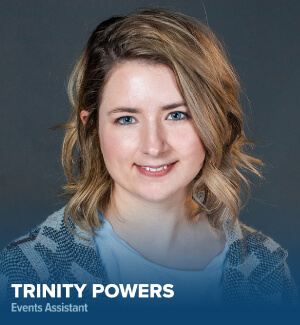 Trinity grew up in a Christian family and accepted Jesus Christ as her Lord and Savior at a young age. In high school, she was "a huge art nerd" as she puts it. You could find her hidden away in the art room, covered in paint, working on one of many projects.
After graduating high school, Trinity attended Baptist Bible College to pursue a degree in business and Bible. It was later that year that she worked as a counselor at Scioto Hills Christian Camp in Ohio where she spent the summer investing and working with kids and ultimately rededicated her life to the Lord.
After Trinity's husband, Tim, graduated from Cedarville University, the couple moved from Ohio (go Bucks!) to New York. Shortly thereafter, Tim accepted a job with Family Life. For the next few years, Trinity worked at The Hammondsport Chamber of Commerce (voted "America's Coolest Small Town in 2012") as their marketing specialist and event coordinator before accepting a position as an events assistant at Family Life.
In her downtime, Trinity enjoys curling up on the couch with her beloved Australian Shepherd, Shasta, and reading a new book or watching old Bob Ross reruns. She also enjoys experimenting with new recipes in the kitchen which includes baking amazing cakes for her friends and family!