Cathlyn Cole / Director of Events & Concert Promotions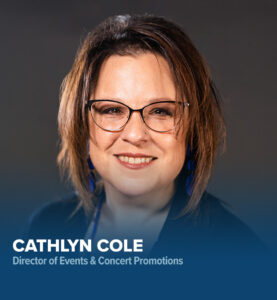 Mike Heyd / Events Coordinator Assistant / Collaborative Pianist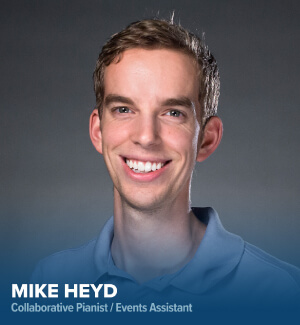 Mike grew up in the tiny village of Nauvoo, Pennsylvania, as the oldest of three children on his family's beef farm. He attended church all of his life and grew up listening to Family Life. With a passion for music, Mike began playing the piano at age 6 and hasn't stopped yet!
From church choirs to orchestra pits and school chorus concerts, Mike's first love is being an accompanist. Hard work, the support of his family and friends, and plenty of prayer have all afforded him many once-in-a-lifetime opportunities.
In 2004, Mike made his New York City debut at Lincoln Center and returned ten years later to perform at Carnegie Hall with National Sacred Honor Choir, an ensemble sponsored by Houghton College. He also was selected to accompany the 2010 Pennsylvania All-State Choir in Pittsburgh and most recently traveled to Viterbo, Italy to work for a summer as an opera pianist.
Even though Mike grew up in a Christian home, it wasn't until years later that he began to grasp the meaning of living fully dependent on God. In 2014, while in Boston and working on his Master's degree, Mike felt the Lord calling him into a deeper, more dedicated relationship. Around this time, ideas of going into full-time ministry quietly began taking root in his heart.
During an especially difficult season in 2016, Mike began praying for an "open door" – one that would lead to the precise place God wanted him. Two months later, Mike excitedly set off to begin an adventure with the Lord… at Family Life. Now as part of our very busy Events staff, his job is to help ensure that Family Life's concerts, conferences, and seminars run as smoothly and efficiently as possible.
Though most of Mike's formal education is in music, the Lord certainly prepared him for his job here. With over 10 years of experience coordinating events, Mike has served as the activities coordinator for Child Evangelism Fellowship, music director for community theater productions and camps, and was instrumental in organizing the annual missions fundraising concert at his church. He also held the position of president and state representative for the Houghton College National Association for Music Education.
Mike has a Bachelor's Degree in Music Education from Houghton College and a Master's Degree in Collaborative Piano from The Boston Conservatory. In addition to coordinating events, Mike plays piano for Family Life Performing Arts.
Trinity Powers / Events Assistant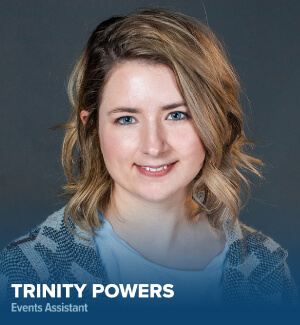 Trinity grew up in a Christian family and accepted Jesus Christ as her Lord and Savior at a young age. In high school, she was "a huge art nerd" as she puts it. You could find her hidden away in the art room, covered in paint, working on one of many projects.
After graduating high school, Trinity attended Baptist Bible College to pursue a degree in business and Bible. It was later that year that she worked as a counselor at Scioto Hills Christian Camp in Ohio where she spent the summer investing and working with kids and ultimately rededicated her life to the Lord.
After Trinity's husband, Tim, graduated from Cedarville University, the couple moved from Ohio (go Bucks!) to New York. Shortly thereafter, Tim accepted a job with Family Life. For the next few years, Trinity worked at The Hammondsport Chamber of Commerce (voted "America's Coolest Small Town in 2012") as their marketing specialist and event coordinator before accepting a position as an events assistant at Family Life.
In her downtime, Trinity enjoys curling up on the couch with her beloved Australian Shepherd, Shasta, and reading a new book or watching old Bob Ross reruns. She also enjoys experimenting with new recipes in the kitchen which includes baking amazing cakes for her friends and family!
Tately Casler / Events Assistant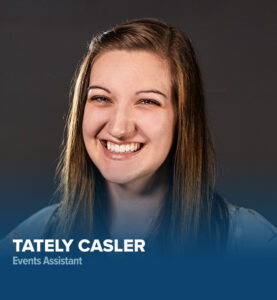 Tately was born in Bath, NY and spent the first several years of her life living down the street from Family Life until her family moved to Troy, Pennsylvania.
Tately has one older sister and was brought up in a close-knit family with strong Christian values and teaching. She grew up attending church, but it wasn't until high school that Tately began a personal relationship with Christ.
After graduation, Tately chose to attend Baptist Bible College and achieved degrees in Counseling and Bible. She later earned a master's degree from Liberty University in Business Psychology.
At the time, Tately was working as a sales assistant at Brookside Homes when she heard about a job opening at Family Life. She had been praying about her next steps in life and was hoping that would include a chance to work in ministry. Tately was determined to live her life in ready obedience to God so she investigated the job. Turns out it was the opportunity she had been praying for and Tately is now a happy member of the Family Life team!