John Coulter / Chief Radio Engineer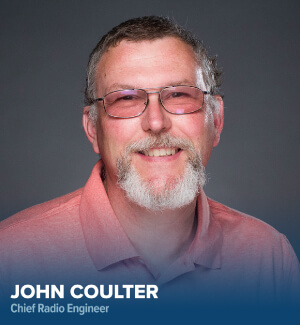 John always has been interested in electronics, more specifically in wireless communications. In sixth grade he built an AM transmitter for a science fair project and earned second place because the judges didn't think a 12-year-old could make a device like that!
In high school, John worked as a camp counselor and has since been active in his local church, serving as trustee, deacon, choir member, and Sunday school teacher.
After high school and one year of Bible College, John attended Erie Institute of Technology and received a Certificate in Electronic Communications. Since then he's worked in the radio and cell phone industries as a field technician/engineer. John also is a licensed master electrician and has a radio telephone license from the FCC.
His hobbies include an avid interest in ham radio and alternative energy, specifically wind generators. John owns the third highest point in Chautauqua County and harnessing the wind up there isn't difficult in the least – it's almost always blowing! John is married to his wonderful wife, Arlene, and enjoys raising farm animals and tending the garden.
Aaron Andrus / Radio Engineer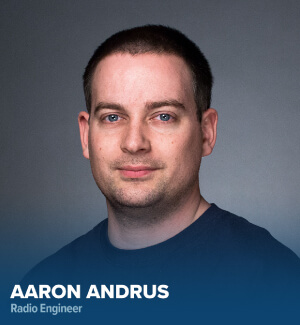 Aaron has been involved with radio and electronics ever since adolescence. One Christmas, he was given an electronics project kit which inevitably sparked a lifetime of interest. At age 15, Aaron earned his Amateur Radio License and is still very active in the hobby, building and fixing radios of all varieties. He loves communicating with people locally and around the world the "old fashioned" way.
In his early teens, Aaron's parents started taking him to church. Immersed in church culture, Aaron became actively involved in the youth group. Three years later, he went on a youth retreat. This was a defining experience for Aaron because it was on this trip he accepted Jesus for the first time!
After high school, Aaron joined the Air Force and spent three years stationed at Minot AFB, North Dakota. During this time, Aaron and his wife started to feel a "drift" away from the Lord. Heeding their desire to move back home to their roots, Aaron joined the Air National Guard in Syracuse and started working with unmanned aircraft and satellite systems. His family also began attending their old church again, and later became involved in a bible study with a group of friends.
Besides working for the Air Force, Aaron has a successful business repairing automotive electronic modules and rebuilding automatic transmissions for automotive businesses. He enjoys troubleshooting issues, fixing broken wires, removing parts, and tearing apart and reassembling transmissions. Aaron calls himself a Jack-of-all-trades in vehicle repair.
Another interesting fact about Aaron: he helps his wife run an ice cream business that they appropriately named, "It Was Good – Ice Cream and Catering." The family started out doing small events, but now caters larger-scale events, sometimes having as many as 400 people! They do everything from private parties to local fairs and festivals, selling root beer floats, Belgian waffle bowls, sundaes, ice cream cones, and other kinds of goodies.
Ralph VanDerLinden / Assistant Radio Engineer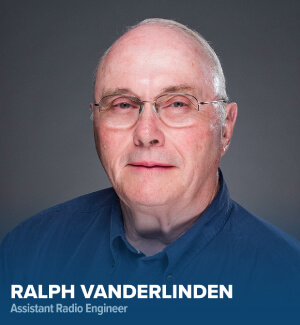 Ralph is a transmitter engineer for Family Life. He works in remote places and, just like Jim Travis, is sometimes responsible for bringing broken radio stations back on the air. Ralph is the son of a Baptist minister and was raised across New York State, mostly in the Central New York region. The youngest of three boys, he accepted Christ in his pre-teen days and has volunteered at church since he was a teenager.
Ralph got involved in radio station repair and maintenance while in college. He gave up his original plan of becoming a teacher, and instead made a career of fixing technology when it doesn't work right. He joined Family Life in 1997 as the network started growing from 8 stations with just a handful of translators.