Christian Bigham / Creative Services Director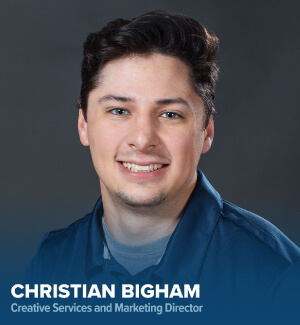 Christian loves worship and has great memories of singing worship songs with his mom in church as a kid. He grew up in a Christian home in Franklinville, NY and spent many of his hours drawing, painting and enjoying the fine arts. He remembers accepting the Lord at 8 years-old, but as a young boy, didn't quite understand all that it meant.
In his teen years, Christian discovered his love for graphic design. It was everything he loved about art except in digital form – no mess, easy clean up! After high school, Christian chose to study Media and Visual Communications at Houghton College.
He remembers buying his first professional camera to help further his graphic design career and was instantly drawn to photography. "I loved the relational component of photography, he says. "The work got me out from behind a desk and connecting with people."
With the thought of making photography a career, Christian began taking pictures of high school seniors, models, and weddings. He was determined to do whatever it took to keep his business afloat, even if it meant relocating to New York City to attract more business and grab a hold of success.
However, God had other plans. In 2017, Christian's photography business fell apart. He had many questions: What was going on? Why had God taken away everything he had built? Now looking back, Christian can see God's purposes with a clearer eye. The Lord was guiding and blessing all along, closing one door to open another.
Now with a deeper trust in the Lord and a new desire to live for Him, Christian rededicate his life to Christ again at age 23. In addition to photography and design, Christian finds great enjoyment in playing guitar, sports, and leading worship at his church.
Timothy Paschalis / Graphic Designer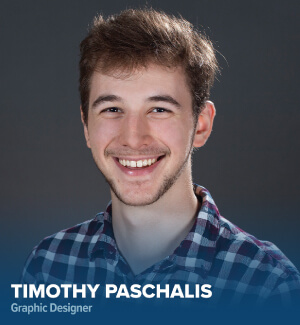 Timothy Paschalis serves Family Life as a graphic designer in Creative Services. He comes from a background of living internationally and being international himself, both of which have shaped his perspective of the world.
Tim first gave his heart to the Lord at age seven but did not fully understand what it meant to follow Jesus. After many spiritual ups and downs, Tim rededicated himself to the Lord in his late teens and has been seeking God ever since.
After finishing high school, Tim had a plan to study chemical engineering. He applied to Houghton College in hopes of eventually attending school at University of Pretoria, one of Africa's top colleges. However, God had different ideas! Instead He led Timothy to enroll at Houghton. After his first year of college there, it slowly became clear that chemistry was not what God had in store. A change was coming.
Tim researched almost every degree at Houghton, trying to figure out why God had brought him there. Eventually, after exhausting all his options and seeking advice from friends and family, Tim's father led him to investigate a degree in design. After much prayer, he felt peace in his heart and decided to take the step.
Soon Tim found himself surrounded by groups of wonderful, talented professors, friends, and mentors who helped him grow in the field of design. He gained experience from a variety of jobs—ranging from a design position on Houghton's marketing team, to freelance work around the community, to starting up his own design studio.
Patrick Sams / Videographer & Photographer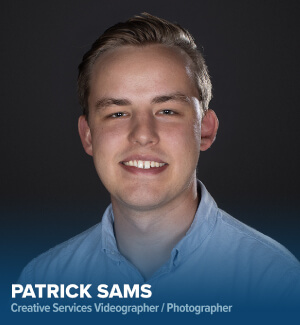 Patrick accepted Christ during Vacation Bible School in 5th grade. Growing up in church, Patrick played drum set during Sunday morning Worship for seven years.
Patrick met his future wife Abby in High School marching band. She played the trumpet while he played the snare drum. It was a match made in heaven! They started dating the last semester of high school and both decided to attend Middle Tennessee State University together where Patrick majored in Interactive Media.
While at Middle Tennessee, Patrick became increasingly involved in his churches college ministry. He had a heart for college students but wasn't sure how God would use his full potential. One day, Patrick's pastor asked him to join the church's staff as a digital media intern. The job fit him like a glove, and it wasn't long until Patrick became the marketing director there.
When Patrick and Abby graduated and got married, the couple made the big decision to move all the way from Murfreesboro, TN so Abby could focus on her graduate studies at Ithaca College. With a month left before the move, and no job in sight, Patrick became discouraged.
One evening, he saw a message on LinkedIn about a job opportunity at Family Life. It felt like a gift from God and confirmation that the couple should make the move to New York. Soon after the interview, Patrick joined the Creative Services team as a videographer and photographer. We couldn't be happier to have him on the team!
Darcie Gore / Publicity Manager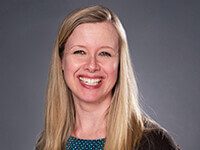 Darcie works with local and regional media to get stories in the news about Family Life. Every day she talks with editors and reporters about what's new with the ministry and builds positive relationships with the press. A wordsmith at heart, Darcie likes to write, especially about subjects related to faith.
Darcie came to Family Life in 2007 from Rochester, New York. Caught up in corporate America, she joined the marketing world after college doing public relations work for companies like Kodak, Johnson & Johnson, and Citizens Bank. After four years in the business, little job satisfaction, and no real joy, she hit the brakes. "Is this it?"
One evening a friend invited Darcie to church. The worship there stirred her heart for God for the first time. The experience was life-changing and Darcie went in search of ministries in need of marketing people. As God would have it, Family Life was the place. The ministry decided to hire a publicity manager the very same day she called about a job – God's perfect timing.
Darcie received her undergraduate in theater from Ithaca College. She loves playing softball, watching movies, and spending time with her daughter, Livvy.