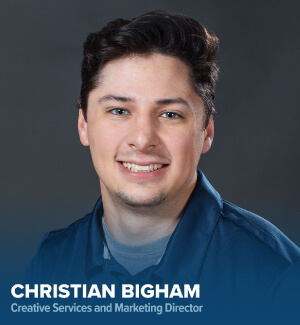 Christian loves worship and has great memories of singing worship songs with his mom in church as a kid. He grew up in a Christian home in Franklinville, NY and spent many of his hours drawing, painting and enjoying the fine arts. He remembers accepting the Lord at 8 years-old, but as a young boy, didn't quite understand all that it meant.
In his teen years, Christian discovered his love for graphic design. It was everything he loved about art except in digital form – no mess, easy clean up! After high school, Christian chose to study Media and Visual Communications at Houghton College.
He remembers buying his first professional camera to help further his graphic design career and was instantly drawn to photography. "I loved the relational component of photography, he says. "The work got me out from behind a desk and connecting with people."
With the thought of making photography a career, Christian began taking pictures of high school seniors, models, and weddings. He was determined to do whatever it took to keep his business afloat, even if it meant relocating to New York City to attract more business and grab a hold of success.
However, God had other plans. In 2017, Christian's photography business fell apart. He had many questions: What was going on? Why had God taken away everything he had built? Now looking back, Christian can see God's purposes with a clearer eye. The Lord was guiding and blessing all along, closing one door to open another.
Now with a deeper trust in the Lord and a new desire to live for Him, Christian rededicate his life to Christ again at age 23. In addition to photography and design, Christian finds great enjoyment in playing guitar, sports, and leading worship at his church.