Building and Grounds Staff
Joe Prunier / Building & Grounds Supervisor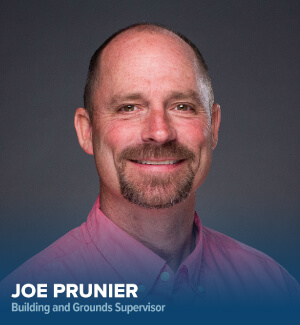 Joe began his dream job at Family Life in July 2012 with years of knowledge and experience in buildings and grounds. He gained that experience by working as a maintenance supervisor at a church in Elmira for ten years, before to coming to Family Life.
Having a heart for serving others, Joe enthusiastically lives by the motto, "A job worth doing is worth doing well!" With a song in his heart, Joe works the grounds while spreading cheer in the hallways and throughout numerous offices at Family Life.
Every day Joe counts his blessings for coming to know Christ as his personal Savior and for the privilege of working alongside his wife, Cindy, at Family Life. They make a great team! Joe enjoys following the activities and events of his children and grandchildren, whether it's sports, horse shows, or romping on the living room floor!
Matt Glick / Building & Grounds Assistant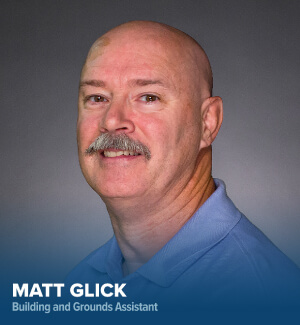 Matt spent most of his childhood and adult life living in Prattsburg, NY. He's grateful to have grown up in a loving home as the youngest of five children. Matt says his parents "loved each other wholeheartedly" and worked to instill Christian values and practices in all of them from an early age.
At age 10, Matt accepted Jesus as his personal Lord and Savior. However, after leaving home as a young man to join the Air Force, Matt gradually slipped from intentionally maintaining his relationship with Christ. He spent much of his time on the road, from serving as a security specialist in the Air Force, to delivering goods for Frito-Lay, then lastly, working for Schwan's Home Delivery.
God faithfully pursues His children. In 2014, Matt recommitted his life to Christ! About a year after rededicating himself to the Lord, Matt crossed paths with a past acquaintance, a Christian man named Tom, who owned a construction business. As they worked together, not only did Matt's knowledge of construction grow, his relationship with Christ flourished too.
One day, Tom mentioned to Matt that Family Life was seeking to fill a maintenance position. He encouraged Matt to inquire about the job. The way this opportunity unfolded made it clear to Matt that God was redirecting his path. In faith, he trusted and obeyed.
Matt is married to his best friend, Amanda. They have two grown daughters with families of their own. They also have another daughter, Amarae, and two foster daughters!