Rodney Coe / Theater Arts Director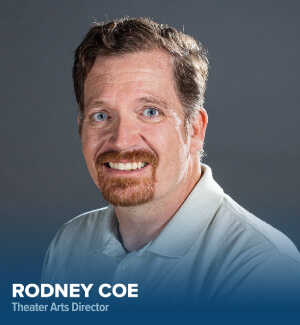 Rodney grew up on a small farm in Indiana where he worked alongside his dad picking vegetables to sell at the local farmer's market. It wasn't until high school that the love of the arts took hold and he realized that singing was just story-telling with music. So, Rodney set course for Broadway after earning his musical theater degree at Ball State University. It was there a college professor and mentor encouraged him to always find the truth of the character, and that's exactly what Rodney intended to do… in New York City!
When he made it to The Big Apple, Rodney was quickly chosen for the lead in a national tour of "The Secret Garden." Caught up in success, Rodney started walking according to his own desires. However, one night while walking home, Rodney was mugged by three men with a baseball bat. In one moment, his life was completely changed. He woke up with a traumatic brain injury that left his short term memory impaired, taking five years to fully heal. During that time, the Lord became Rodney's all in all by humbling him in many ways, especially through his new limitations. He could not remember new information and literally had to tape his address to his wallet. There were times he became lost on the street and had to allow complete strangers to help him find his way.
After the injury, Rodney's career in musical theater came to a standstill, though his passion for the stage still burned. With the encouragement of friends, he began to perform again, however with a different motivation than before. He realized his desire for self-glory had changed. He now wanted Christ to be the focus. For the last 12 years, God has allowed him to support his family by performing in Christian productions. He spent eight of those years at Sight and Sound Theaters playing the biblical roles of Jonah, Aaron, and most recently Nicodemus in the production of "Jesus."
Rodney's passion is to use the arts to bring people the hope of Christ. He longs to see the broken understand their value in the eyes of a loving God. It's one thing to know who you are, but true freedom comes when you know Whose you are!
Bob Dusek / Director of Music & Worship Arts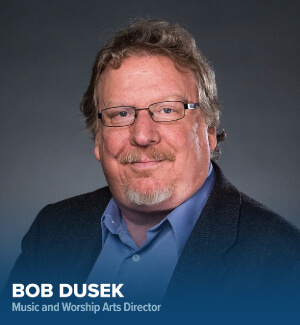 Bob grew up in the village of Menomonee Falls, just outside of Milwaukee, WI. As a child, he always had a drive for music, whether it was dancing to the record player or turning his mother's pots and pans into a drum set. He started taking piano lessons at the age of seven and hasn't turned back. After studying for a summer at Tanglewood Institute at Boston University, Bob decided to make music a career.
Bob came to know Christ while at the Eastman School of Music in Rochester, NY. Up until that time, he was an apologist against Christianity and delighted in arguing with college-aged Christians about their beliefs. However, God used the prayers and perseverance of the Intervarsity Christian Fellowship to change his heart and Bob prayed to accept Christ!
After college, Bob continued to give concerts and teach piano/composition, but his real desire was to teach college. He often made it to the short list, but opportunities to teach kept closing while doors to ministry kept opening. Within a few short years, Bob was serving as a pastor of worship arts in a large church in the Denver area. His passion for the Word eventually led to his ordination in 2006, and two years later, his passion for the musical arts led to his book, "Facing the Music: the worship leader in the evangelical church."
After serving more than 15 years as worship pastor in different Colorado churches, Bob took a break to seek the Lord's direction. It was during this time of reflection that Family Life contacted Bob on the chance that he might be looking for a job. One "so called" coincidence led to another and Bob joined us in October of 2016.
Bob's musical training includes a B.A. of Music in Composition from Eastman School of Music, a M.M. in Piano Performance from Southern Methodist University, and a Doctor in Musical Arts in Composition from University of Colorado Boulder. He has performed as a concert pianist throughout the U.S and is an award-winning composer with his works recorded by Warsaw Philharmonic Orchestra (Poland), North South Consonance Ensemble (New York City), and University of Colorado Symphony, among others.
In addition to music, Bob loves large format photography, hiking, biking and shooting. He lives in Prattsburgh, N.Y., with his wife, Karen, whom he loves, and his dog, Toby, whom he tolerates.
Melanie Coe / Performing Arts Administrative Assistant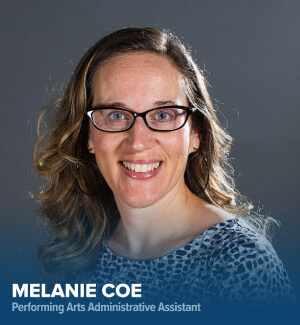 Melanie originally hails from sunny California. She grew up the baby of 8 kids, so she learned early on in life how to perform to gain attention! In high school and college, she used that talent to win roles in theater productions, one of her favorites being Dolly, in "Hello Dolly!"
Melanie grew up going to church, but it wasn't until she was 19-years-old that she recognized her need for Christ and that her "goodness" wasn't enough to gain salvation. She had never really read the Bible before, though, one always sat on her shelf. When she opened it up, it was as if all the pieces of a jumbled puzzle came together and a beautiful picture of Jesus' sacrifice for her was staring at her from the pages.
Melanie obtained her degree in Special Education and spent the bulk of her career working with people with special needs. However, she took a 10-year hiatus when she and her husband started a family. Over the past few years, Melanie has been working as a behavior mentor for teens with autism.
Melanie is happy to work alongside her handsome husband, Rodney Coe, as his administrative assistant in performing arts. In addition to her job at Family Life, Melanie has three adorable children – Selah, Judah, and Roman – that keep her busy!
Robbie Lindmark / Production Designer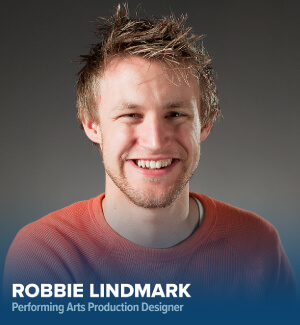 As production designer, Robbie's main responsibility is designing sets for Family Life's theatrical performances. He also enjoys acting and auditions for as many shows at Family Life as time allows!
Having enjoyed a natural bent toward the dramatic arts most of his life, Robbie auditioned for Family Life's production of Narnia as a young teenager. He was thrilled to receive the role of Mr. Tumnus, and since he thrived in God-honoring atmospheres, Robbie continued auditioning with Family Life. Later on he was awarded the role of Willy Porter in "The Gifts of the Magi" – the ministry's first traveling Christmas production.
During his high school career, Robbie began taking advanced art and drama classes helped him snag lead roles in well-known productions, including Professor Harold Hill in "The Music Man," George Bailey in "It's a Wonderful Life," Jim Dillingham in "The Gifts of the Magi," and Enjolras in "Les Miserables."
Since his first production with Family Life, Robbie noticed his passion growing for using theater to teach children about God. In 2011, he began his apprenticeship at Family Life, and a year later, Robbie made his directing debut with the colorful musical "Seussical," followed by "Peter Pan" and "The Wizard of Oz." He also oversaw the ministry's Youtheatre Workshop program for three years, teaching drama, set design classes, and directing shows.
Terry Miller / Stage Manager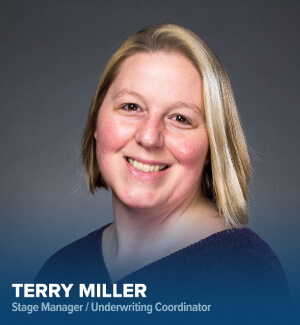 Terry was raised in Attica, NY, and even though she didn't grow up in a Christian home, the Lord had a great plan in mind for her future.
Terry's mom spent much of her life searching for spiritual truth. When Terry was 12, her mom found a church and rededicated her life to Christ. Around that time, she decided her daughter should attend a youth convention called "Acquire the Fire." Reluctantly, Terry went, but it was there she met the Lord, joined a youth group, and met her now husband, Steve.
Terry has loved musical theater ever since adolescence. In middle school, one of her friends introduced her to Phantom of the Opera. Terry was hooked. She and her sister would drive around singing the Copacabana soundtrack without a care in the world!
Later in her college years, Terry and Steve had a mutual friend tell them about Sight & Sound. The couple didn't do much with the information except tuck it away. Two years later, and closing in on their wedding date, the pastor of their local church insisted they take time out to pray about their future together. The Lord brought Sight & Sound back to mind. Within a span of a few months, they both had job offers. The Lord was making their way.
After 14 years of employment at Sight & Sound working in production and stage management, the couple felt the Lord calling them back to their roots and family in Western New York. The pastor from Terry's mother's church suggested she look at Family Life's website to see if they had any openings – and here she is!
Terry works at Family Life as stage manager for the Performing Arts department and helps the radio ministry as an Underwriting Coordinator. She is "very excited for the opportunity to use her gifts and talents to work with these amazing two teams."
Lauren Norris / Choreographer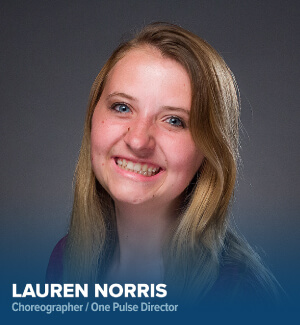 Lauren Norris grew up dancing and loves Jesus, ballet and kids. She studied ballet for 12 years at a private studio in Alfred and Hornell, and found her passion teaching dance students in that same area. Lauren furthered her dance education by attending the Chautauqua Regional Youth Ballet where she studied under dancers from the New York City Ballet. In addition to ballet, Lauren has some experience with Ballroom and contemporary styles of dance.
One of her most valued accomplishments was her role in developing and directing Side Porch Ballet Productions in Almond. Side Porch Ballet offers one week of ballet instruction to students at no cost, and is held at Lauren's house on her side porch. After a few years of success, Lauren expanded the outreach to Jamaica on an missions trip with Source of Light Ministries. In Jamaica, she danced for schools and churches, which soon after, led to her teaching a free dance intensive to young Jamaican students.
Now living in Almond, NY, Lauren enjoys leading One Pulse, Family Life's premier dance ensemble. She is excited to teach and glorify God through dance at Family Life.
Cody Slayton / Set Designer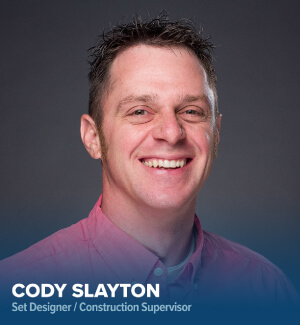 As a member of the Performing Arts staff, Cody loves designing and building props and sets for our theater productions. When friends and family ask Cody how he likes his job, he emphatically replies, "I love it!" Regardless of the task, Cody sees his work as service to the Lord. Amen!
Cody grew up going to church, but never fully understood what it meant to be totally dependent on Christ. When he was 18, Cody came to Christ during a difficult season. There were false teachers in his life, and after trying to defend his faith one night, Cody realized he needed to submit his heart to Jesus in order to truly follow Him. Head knowledge alone would not suffice. Alone in his college dorm room one night, Cody cried out to the Lord. He told God about his struggles, and his desire to become a missionary. The Lord hasn't completely fulfilled that desire yet, but Cody's heart to serve in ministry has never been stronger.
Life as a Christian has certainly been a journey. Cody was adopted at age 5 when his birth mother married his dad. The family lived on a dairy farm in Howard, NY, not far from Family Life. When he was a teenager, Cody met his birth father for the first time, and a wonderful relationship grew between them that continues today. Later on, Cody married his high school sweetheart, Hillary, and they began life together in San Antonio, Texas. After 14 years and three beautiful children, God made it clear that Cody should move back to New York so his family could be near relatives – Cody has 8 sibilings! – and the kids could grow up in a safe, rural community. Now Cody, Hillary, and their three children – CodeyNoel, Ryder, and Hadley – have happily settled in Avoca.
Life as a Christian has certainly been a journey. Cody was adopted at age 5 when his birth mother married his dad. The family lived on a dairy farm in Howard, NY, not far from Family Life. When he was a teenager, Cody met his birth father for the first time, and a wonderful relationship grew between them that continues today. Later on, Cody married his high school sweetheart, Hillary, and they began life together in San Antonio, Texas. After 14 years and three beautiful children, God made it clear that Cody should move back to New York so his family could be near relatives – Cody has 8 sibilings! – and the kids could grow up in a safe, rural community. Now Cody, Hillary, and their three children – CodeyNoel, Ryder, and Hadley – have happily settled in Avoca.
Aaron Church / Set Designer Assistant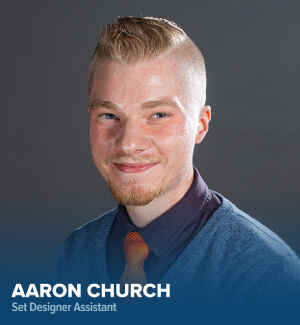 Aaron assists in the scene shop, constructing, designing, and painting sets for Family Life's theatrical productions. He is excited to continue learning and growing in the arts as he works alongside the Performing Arts staff.
Aaron grew up in Java Center, a small town in Wyoming County. As the middle child among eight other siblings there was always something exciting going on! His family was very active in church, and after performing in a handful of Christmas plays, Aaron fell in love with theater.
After high school, he felt God calling him to peruse this love. Steady work in theater isn't an easy thing to find, so Aaron prayed: "God, if this is where you want me, then I'll trust you to provide." After that, Aaron enrolled in the Theatre Arts program at SUNY Geneseo where he graduated in May of 2019.
During the summers while in college, Aaron worked for a summer camp where he felt the Lord calling him to share the love of Christ with youth. Aaron thought, "Theater is a great way to reach young people for the Lord!"
Well, that crazy idea turned out to be not be so crazy after Aaron was hired to help out with Family Life's Youtheatre Workshops. He loved the Christian environment, and after much deliberation, applied for a permanent job. Aaron continues to be amazed at God's blessing on his life after he took the leap into theater!
Jonathon Marmor / Technical Assistant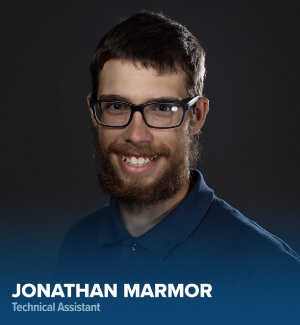 Jonathan has a special affinity for technology, especially gadgets with lots of lights and buttons that make noise! It was that curiosity that got him involved with a community theater in his hometown of Chilton, Wisconsin, helping with stage sound and lighting. Jon also earned his Ham radio license and even built his own 40-foot radio tower to better explore Ham radio.
When his family moved to Western NY, Jonathon started working for a custom home builder doing construction. He did everything from installing drywall to operating heavy equipment on site. He even had a short stint working for an electrician.
After a time, Jonathon began missing his work as a stage technician. God led him to a church where he met a few members of the Family Life staff. He began volunteering with us, running lightboards for theatrical productions and working on light design for other types of events. Eventually Jon was hired to do all this – and help in radio engineering, too – for a paycheck! His job is a great fit.
Jonathan is the oldest of 4 siblings and lives near his parents in Corning. He enjoys hunting, trapping, fishing, camping and sports. He also enjoys technical hobbies like Ham Radio, wood working, and fixing most anything.